Stay-At-Home Ordered In Virus Hot Spots
By Chris Jones

HARRISBURG — Gov. Wolf placed people in Monroe County, Alleghany County and several Southeast Pa. counties under a two-week stay-at-home order Monday afternoon.
Wolf said the order should be observed unless staying put would endanger your own health.
Monroe County, which borders Pike County to the south, reported 43 cases of COVID-19 and one death. One county further south, Northampton, reported 23 cases and two deaths.
Wolf called for extending public school closures across the state, and the state Dept. of Education (PDE) said Monday that all schools in the Commonwealth would remain closed through at least April 6 as a result of the COVID-19 response efforts.
When it's determined that students can return to school, administrators, teachers and other staff will be given two days to prepare classrooms, set up cafeterias, schedule transportation and arrange other business operations. Students would return on the third day, the PDE said.
The Pa. Dept. of Health reported 165 new cases of COVID-19 Monday, following on 108 on Sunday. Wolf said there have been 60 hospitalizations for the coronavirus since March 6, which constitutes 10 percent of those who tested positive. Some 6,000 people tested negative. Deaths so far across the Commonwealth total six. Thirty-four counties have reported cases of COVID-19
Eighty percent of people infected by coronavirus will recover without complications, Wolf said.
"But we can't treat the other 20 percent. We need to buy time," the governor said in explaining his mantra of "Stay calm, stay home, and stay safe."
Hospitals don't have the beds or ventilators at present to treat patients if the virus explodes, he said.
Earlier, Wolf encouraged compliance with his order that non-life-sustaining businesses in the commonwealth close brick-and-mortar operations, and reminded Pennsylvanians that enforcement of that order began at 8 a.m. Monday, March 23.
Locally, the effect of business order was apparent, with many storefronts closed except for drugstores and eateries offering take-out or delivery of food.
The Pike County Economic Development Authority announced that it is fielding many requests from local businesses regarding funding options to help them through the COVID-19 health crisis.
An update on this aspect of the situation is available on the Pike County Coronavirus COVID-19 Update page. http://bit.ly/pikepa11. .....For more information pick up a copy at a local vendor or subscribe.


Delaware Valley Sets May 1 As Cut-Off For Schools Reopening

By Wayne Witkowski

WESTFALL — If school is not back in session by May 1, school buildings likely will remain closed for the rest of the school year.
That was the scenario presented by Delaware Valley School District Superintendent John Bell during the monthly Board of Directors session Thursday last week. The meeting was closed to the public and media but broadcast on its Youtube channel.
Seven of the nine board members were present, and remote hookups were arranged for absent members Felicia Sheehan and Brian Carso. Board president Cory Homer suggested that policies be clear in allowing for arrangements at future meetings for board members who are unable to attend but available for a call-in.
"Every day we've been bombarded with questions," said Bell during the broadcast. "The last 11 days have been nonstop. It's been crazy."
The district administrative building dismissed secretaries and most personnel on Friday for the time being, under orders of the governor on Thursday last week, mandating that all nonessential, non-life-sustaining personnel were to be kept from work. Bell and other department administrators will visit periodically to keep tabs on paying vendors, handling payroll and checking overall operations.
"I'll be answering phones," Bell said with a laugh.
Schools were initially closed until March 31 on a wait-and-see holding pattern for reopening. Delaware Valley is using 10 available snow days during that time, and Bell said no required schoolwork would be done during that period.
"If (students) do not go back on April 1, we'll go on until April 30, but if we're not in by May 1, they'll go to the next school year," said Bell, speculating that April 27 would be the final deadline for deciding whether to reopen school buildings.
But on Monday, March 23, the state education department (PDE) extended the closure of all state public schools until April 6. The PDE also cancelled PASA and Keystone exams.
"We're still holding hope for the possibility of going back to school sometime in the spring," Bell said. ....For more information pick up a copy at a local vendor or subscribe.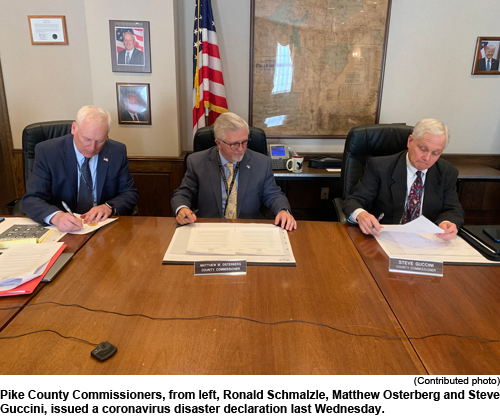 County Issues Disaster Declaration, New Court Procedures
By Chris Jones

MILFORD — County Commissioners last week declared a disaster emergency in Pike due to COVID-19, the coronavirus pandemic.
During a meeting that was closed to the public for hygienic purposes, but parts of which were live-streamed on the county website, the commissioners directed the county's emergency management coordinator to spearhead all corona virus emergency response actions.
By law, the disaster declaration authorizes the temporary suspension of "time-consuming procedures and formalities prescribed by law (excepting mandatory constitutional requirements) pertaining to the performance of public work, entering into contracts … employment of temporary workers, rental of equipment, the purchase of supplies and materials, the levying of taxes and the appropriation and expenditure of public funds."
New Court Procedures Outlined
Also at the meeting, Gregory Chelak, president judge of the Pike County Court of Common Pleas, outlined the court's policies, restrictions and/or mitigation strategies during the emergency.
In general, the policy is to have members of the Bar and public, especially those experiencing illness symptoms, to avoid coming to the Courthouse unless absolutely necessary or as required by order of the Court.
The courts remain open and working but the goal is to reduce situations where people who need to transact business come into the courthouse and offices of district justices, probation, adult protective services, juvenile services and domestic relations.
Chelak said when possible people should use email and fax to transmit documents to the court rather than walking them in. For two weeks, original filings intended for the prothonotary, clerk of courts and clerk of the orphans court don't require a filing fee and can be sent by fax to 570-296-6054 or public email address at pikecourts@gmail.com.
There will be enhanced use of video conferencing for proceedings involving incarcerated defendants. This will reduce the need to transport inmates and keep them in holding cells in the court buildings.
"This is better for staff and inmates," Chelak said.
Non-essential civil hearings will be rescheduled to a future date. One criminal case trial has been continued, so there will be no immediate need for jury selection, which normally brings dozens of people into the courtroom, Chelak said. ....For more information pick up a copy at a local vendor or subscribe.




Two Of Pike's Most Populous Towns Declare Emergencies

By Wayne Witkowski

BUSHKILL — In southern Pike County, Delaware Township on Tuesday and Lehman Township on Monday this week each declared a state of emergency amid the threat of the coronavirus that has crippled the nation.
The decisions come hours before Pike County commissioners designated the county a disaster area in a resolution passed at their bimonthly meeting on Wednesday.
Although both townships are among the most populated in the county, neither township has had a report of a resident testing positive for the virus. Proactive steps have been taken for the virus.
Delaware Township's municipal offices are closed to the public. Lehman Township's remain open.
Most private communities' main offices are operating but not open to the public, and neither are clubhouse amenities.
Delaware Township's Board of Supervisors regularly scheduled bi-monthly meeting on March 25 has been cancelled.
Lehman Township's bi-monthly meeting for 3 p.m. on March 26 still is on the schedule at this time, said Board of Supervisors Chairman Rob Rohner.
Delaware Township has closed Akenac Park through April 30, which includes the April 4 Easter event, and the suspension of the Delaware Township Library and Historical Society there through April. Bulk Day also is cancelled for April 4
All township facilities are closed to outside groups and organizations through April 30.
"We encourage you to do business via phone, email, fax or to drop off documents at the front door," reads Delaware Township's declaration.
That includes payment of taxes that will not be accepted in either township or the county in person but can be mailed. ....For more information pick up a copy at a local vendor or subscribe.