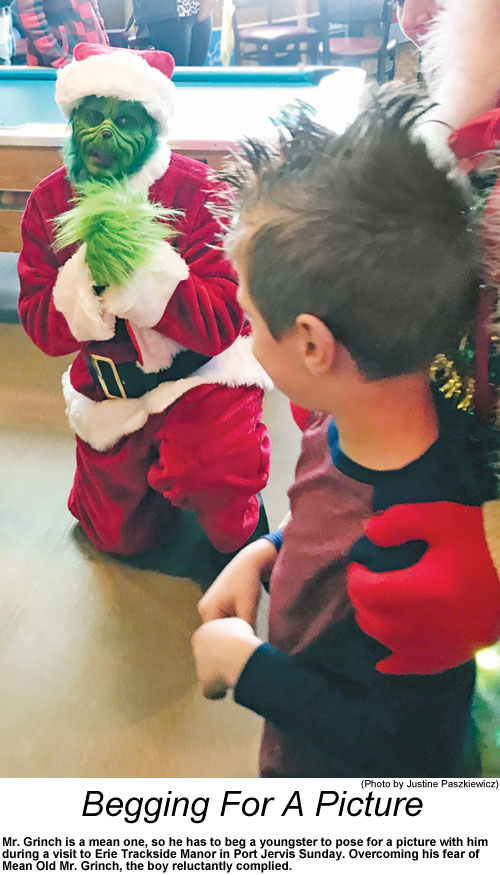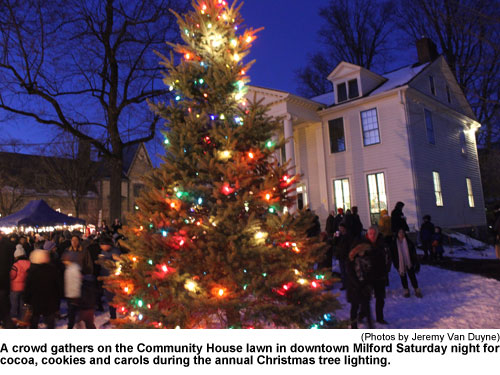 Community House Tree Lights Up Milford
By Jeremy Van Duyne
MILFORD — This past Saturday saw the Borough of Milford hold its annual Christmas tree lighting ceremony.
The celebration took place at the Milford Community House on Broad Street in town. The tree sits in front of the house, decorated in a string of electronic lights. Braving the cold, people from all over gathered to attend the celebration. Parents brought their children, grandparents brought their grandchildren and people even brought their pets to see the tree light up for the first time of 2019.
"Feel free to sing along to some of your favorite songs," said one of the hosts for the event. "Have some cookies and hot cocoa. We will wait for the countdown to light our beautiful tree."
People who attended the celebration stood outside on the Community House's lawn to count down to the tree lights coming on.
While many of those who attended were local residents, there were also plenty of travelers who came to Milford to see the tree light up.
"It was fun to come up here and see this event," said Rob, who traveled from New York to see the tree. "This is a nice small town and it is nice to see community events like this unfold."
The Dingman-Delaware Children's Choir, led by choir director Brian Krauss, performed a medley of classic Christmas and holiday songs.
"We have been participating on and off with the tree lighting for most of those years," said Krauss. "We haven't always been able to make it fit into our schedule, but we must be on a 10-year run at the present."
Krauss has been directing the choir for nearly 25 years. He says that in order to prepare for these types of performances, the choir will have a 90-minute rehearsal once a week so that they can perfect the songs that they will need to sing at them. Krauss says that he is super proud of the choir, joyful that they get the opportunity to perform at such an event.........For more information pick up a copy at a local vendor or subscribe.
Pike Blames Tax Increase On Rising Health Costs
By Chris Jones
MILFORD — The 2020 Pike County budget includes a 7.5 percent increase to the county budget millage rate, the first increase in three years.
In a press release accompanying the proposed budget, Commissioners attributed the tax increase to "challenges related to the rise in county operating costs, particularly health insurance."
Specifically they cited as the main drivers of the tax increase more expensive claims by county employees ("higher utilization") and the rising cost of health care.
The total proposed budget for 2020 is $43,638,368. The county budget millage rises to 18.82 mills from 17.32 mills, a 1.5 mill increase.
Commissioner Chairman Matt Osterberg said that would amount to an average tax increase of $28.83 per parcel, "some higher, some lower." He said the increase would mount to $57 for his own house. "We raise our own taxes too," Osterberg said.
He also said the 7.5 percent increase over three years was about equal to the cost of living increase.
"We are a self-insured county," Osterberg said. "We need to cover all the claims."
The county kept a fund balance of $1.5 million rather than dipping into that to defray costs.
"We can't bet on a better result [in utilization] next time," commissioner Steve Guccini said, adding that guessing claims won't be that bad the next year would be irresponsible.
As other contributing factors in the tax hike, commissioners also cited expiration of a number of employee contracts and an increase in the county's stop-loss insurance premiums.......For more information pick up a copy at a local vendor or subscribe.
Pa. Hunters Set All-Time
Record Harvest Of Bears
HARRISBURG — Hunters have set a new Pennsylvania bear-harvest record.
Although numbers are continuing to come in, and bear hunting remains open through Saturday in some of the state's Wildlife Management Units (WMUs), as of Monday morning Dec. 9, the 2019 preliminary bear harvest sat at 4,577.
The Commonwealth's previous record bear harvest occurred in 2011, when hunters took 4,350 through a slate of bear seasons. Hunters also harvested 4,164 in 2005.
Expanded hunting opportunities provided by new special-firearms and muzzleloader bear seasons and an expanded archery bear season have helped push the 2019 bear harvest. Record bear license sales also have contributed: license sales currently exceed 200,000; previously they have held at highs between 170,000 and 175,000. And the statewide bear population at the start of the bear-hunting seasons was about 20,000 bears.
"Our goal was to offer more hunting opportunities and prevent Pennsylvania's bear population from increasing," noted Game Commission Executive Director Bryan Burhans. "The response from hunters to the expanded seasons and the success they enjoyed afield were exciting to see."
Black bears are thriving in Penn's Woods today. But in a state with 12 million residents, concern about additional bear population gains compelled the Game Commission earlier this year to double the number of statewide bear-hunting days, creating the state's lengthiest bear-hunting opportunity since the 1930s.
"It's the largest suite of bear-season changes ever approved in a single year," explained Matt Lovallo, agency Game Mammals Section supervisor. "In most of the state, we're going from 14 or 16 days of bear hunting to 32, from three Saturdays to seven, and we started hunting bears almost two weeks earlier."
The additional days and increased number of bear hunters appear to have made a significant difference. Great weather on peak hunting days also helped.. ......For more information pick up a copy at a local vendor or subscribe.