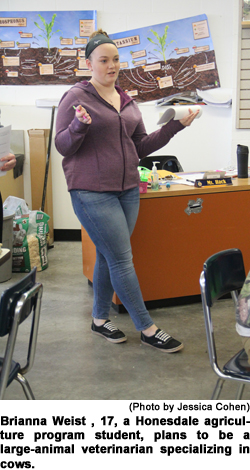 100 Honesdale H.S. Students Enrolled In Ag Program

HONESDALE — Experiences with cows, pigs and sharks were among the reasons students gave for taking the Animal Science class at Honesdale High School. The class is part of the school's new agriculture program, introduced this year to expand career offerings in a town with farming history. But agriculture education programs, differently designed, flourish in urban schools too, says Kayla Hack, the new teacher recruited for the program.
Brianna Weist, 17, a student in Hack's class, plans to be a large-animal veterinarian specializing in cows. She grew up helping with her family's cattle.
"I get close to them, doing chores and feeding them, especially the ones who come up to me even when I don't have a feed bucket," she said, as she worked on a "bio-security" lab in class. Students dipped dirty boots in a disinfectant solution to see how that would affect bacteria growth, an issue in barns where people come and go.
Weist is among the 40 percent of Honesdale's agriculture program students heading for a farming related career. Her mother's family raises beef cattle; her father's has dairy cows. Every year a steer goes to auction to be slaughtered, but she is accustomed to the cycle and wants to support its continuance.
"I say goodbye and know next year we'll do it again," she says.
Weist also wants to be part of a community effort to save local dairy farms and was part of a Future Farmers of America effort to raise $68,000 to rebuild a barn that recently burned down.
Through FFA, revived this year in Honesdale after being absent since the 1970's, students do community service projects and internships. Those ventures have included raising chicks, wreath making, therapeutic riding, and growing plants for Here and Now restaurant.
Community involvement is part of the agriculture program, says Hack, who grew up on a Wisconsin dairy farm and was active in FFA at her high school. She studied agriculture education at Penn State and has found Wayne County to have a "community where you can have roots," with its "strong values," active sustainable agriculture and year-round farmer's markets.
Also in the class is Grace Mead, 16, who knows how friendly and smart pigs are, quickly learning their names and commands, she says.
"They follow me from pen to pen like dogs," she says of several sows among her 30 pigs, with such names as Izzy, Abby, and Chloe. She chose to take the class to better educate herself in agriculture for 4H Club, she says. With 4H, she breeds and sells pigs for shows. She sends some pigs to be butchered while keeping their piglets.
"I know that's what I have to do," she says.
She plans to go into the military.
Hooked By 'Shark Week'
Shark Week on the Discovery Channel hooked Ian Lipski, 14, on marine biology, as he watched sharks in labor being tagged to see where they go.
"I'm taking agriculture classes to expand my knowledge of animals and graduate with more science credits," he said.
"For some, agriculture is a hobby. For others, it's a way of life," says Hack.
Other agriculture program classes include forestry, horticulture, and food processing. Students learn about chain saw safety, how to make jams and jellies, and niche markets like raising bees for honey.
"Students are encouraged to enroll in the entire program, as classes build upon and complement each other, and 100 are in it now" says Hack....For complete story, get this week's issue.
Pike Job Fair Buzz About
Health Care & Real Estate

WESTFALL — Home health care companies again were well represented at the third annual Working Pike Job Fair on Tuesday at the Best Western.
A strong turnout again browsed through the nearly 70 tables of job vendors. Pike County Workforce Development Agency was the lead organizer in conjunction with seven local churches. The Pike County Dispatch was one of the lead sponsors.
"It's a very strong industry," said Carolina Wheate of Bayada's Bartonsville office in Monroe County about the home health care industry. "It's very secure with lots of demand, with an employee shortage in the field. We need skilled staff."
Wheate's office has 100 workers dealing exclusively with specialty pediatric assisting care. They not only cover home care but also any needs for clients up to age 18 for their time in school and activities such as camp. Wheate said there are full- and part-time positions available. Representatives of companies from the region as well as southern New York State were on hand.
"We're very happy, excited for the employers with a good job seeker turnout," said Pike County Workforce Development Agency Executive Director Cindy DeFebo. "And we're excited for the job seekers for their job opportunities."
Mike Sullivan of the Pike County Economic Development Authority said it's a "totally different dynamic" at this year's job fair.
"Job seekers are in a position where employers are eager to hire," Sullivan said. "In past years, it was the other way around, when people were desperate to get work. The situation where employers are competing to fill jobs now will push wages up. A lot of people here are working at other jobs and looking at other opportunities that are closer to home"
Tim Knapp, Pike County Emergency Operations Coordinator, said with a shortage of volunteers, it will become "only a matter of time" before first responders' volunteer work will draw a salary. He said his table was looking for EMTs and he was there to discuss that training with his staff. There was a wide array of employers ranging from real estate, recreation-based companies like Kittatinny Canoes and Camelback Resort, to McDonald's, Primerica, Coach USA bus transportation, and the Pike County Sheriff's office and the county Corrections Department.
Real Estate Is Hot
"The market right now is extremely busy," said Liza Rombousek of Weichert Realtors in Milford. "As long as (property) is priced right, the market is moving very fast. It's an extremely good time to start a career in real estate once you complete full training to get a license."
Getting a state license is a three-month process that includes 60 hours of online training, said Rambousek, saying the spring and fall seasons are the busiest times.
"You can personalize yourself in this work," said Heather Elabdouni, who said five prospective Weichert agents recently have begun training...For complete story, get this week's issue.