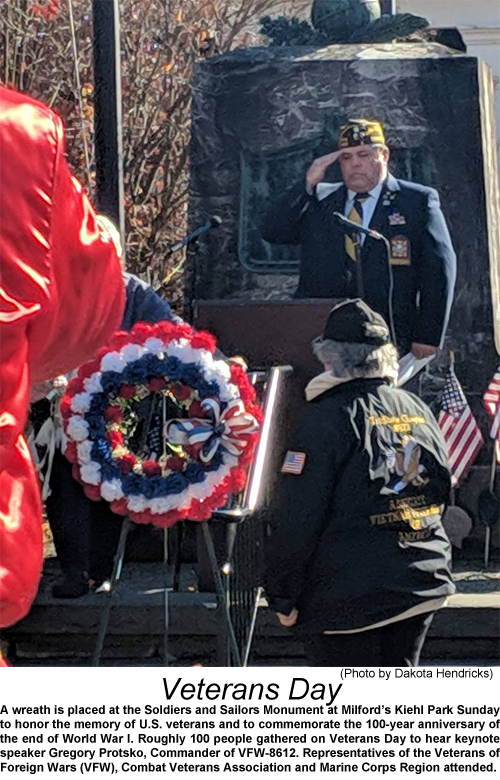 Shohola Might Close Police Dept., Roll Cost Over To ALS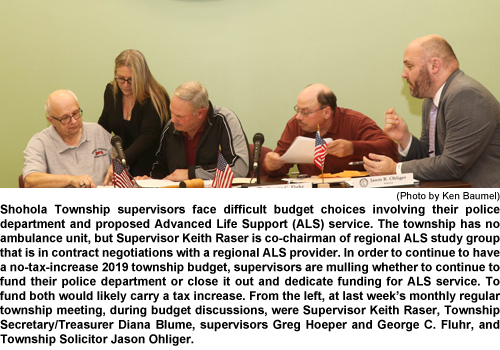 SHOHOLA — Compelling factors recently converging are prompting Shohola Township Supervisor Chairman Greg Hoeper to propose terminating the township Police Department and rolling that budget item over into a new Advanced Life Support/paramedic budget line.
Hoeper spoke about the factors and his proposal at the regular township meeting held last week at the township building on Twin Lakes Road.
One factor is that Township and Police Dept. negotiations on renewing the police contract that had been ongoing since February recently broke down over scheduling and remuneration matters, noted Hoeper.
Township officials spoke after the meeting about the history of the department, which was formed in the 1980s, when the National Park Service's Upper Delaware Wild and Scenic Rivers unit subsidized the department, which originally only patrolled the unit's river corridor in Shohola and Lackawaxen Township.
When the NPS pulled full department funding, Shohola supervisors opted to continue the department and expanded its patrol area to all of Shohola and Lackawaxen, if Lackawaxen wanted to participate, but Lackawaxen balked at cost sharing and pulled out.
The department continued to get some NPS funding, but a few years ago even that partial funding ceased.
According to Township Secretary/Treasurer Diana Blume, the past few years, the Shohola budget for the department fluctuated between $84,000 to slightly more than $90,000 a year.
Since becoming a standalone department, the only one in Pike County exclusively serving one township, the department has shared patrol duties each week with the Pennsylvania State Police Blooming Grove Barracks.
Shohola patrols weekdays from 9 a.m. to 5 p.m., and the state police patrol nights and weekends, noted Hoeper. The Township Police Committee has assembled statistics that showed that in recent years the bulk of calls came after hours and on weekends when state police responded. Ideally, supervisors would like the township department to patrol part of the evening and weekend hours.
The department, which was aided in its negotiations by Fraternal Order Of Police evaluated the options and township proposals and considered the package unacceptable in its current format.
Meanwhile, supervisors are close to entering a possible contract with an ALS provider that would serve seven eastern Pike municipalities, including Shohola.
Although pending provider would not charge the municipalities for the first six months, if enough ambulance bills are not paid to the provider, billing the municipalities would be likely after the six-month test period, noted the regional ALS study group, co-chaired by Shohola Supervisor Keith Raser.
With the group estimating potential total ALS service cost to be as high as $600,000 a year, Shohola is willing to set aside enough to cover its share.
Shohola wants to keep a no-tax-increase budget, noted Hoeper and Blume. Rolling over and earmarking the police budget line to be set aside for ALS could then be a wash from a budgetary point of view, noted Hoeper. That way, there would be no tax increase.
Supervisors adopted a no-tax-increase 2019 budget that has a police line, but if they opt to close out the department, could replace it with an ambulance line in January by amending the budget, according to Supervisor George C. Fluhr. ......For more information pick up a copy at a local vendor or subscribe.
State-Mandated Dam Inspection Results In Dead Fish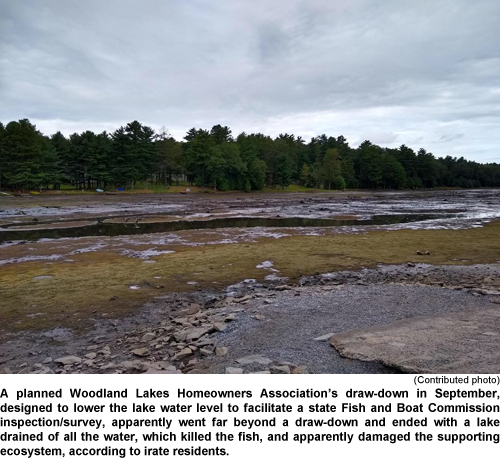 By Ken Baumel

DINGMAN — A routine state-mandated lake-draining permit required to visually inspect a spillway/dam drainage pipe at Pocono Mountain Woodlands Lake has morphed into an apparent "ecological disaster" at Pocono Mountain Woodland Lakes Homeowners Association in Dingman Township, according to irate resident Diana Blume.
The drainage that took place in mid-September killing many fish and damaging the supporting eco-support system, an outcome that has Blume and some property owners that are avid anglers on the lake fuming and seeking answers.
When one of those residents called State Representative Mike Peifer's office, his legislative assistant Jill Gamboni reached out to state regulatory agencies. She asked if such permits had ever before led to such damage of a fishery and supporting system. State officials informed her that they could not recall anything of that magnitude reported in recent memory.
Meanwhile, Blume said, "I've been [fishing] on the lake for 17 years. It has bass, pickerel, perch, panfish, and other fish species. I regularly caught bass that are 20 inches or more."
Blume said that she fears that the lake might never recover its ecosystem and array of trophy fish. She commended the Herculean efforts by a tiny handful of volunteers, such as Dustin Smith, who were at the dam/spillway (as the lake was being drained) trying to save as many fish as they could.
They saved a few hundred, but thousands of fish did not make it, according to Smith. He said that someone with a drone recorded the draining and aftermath.
Smith said, "We took the fish to a nearby pond and hoped that the large and smallmouth bass might survive there. But by the time the water drained out, the lake was too shallow for the rest of the big fish to survive."
Smith said that he saw the predator birds such as eagles, osprey and herons having a field day as they carried the big fish away for food.
Blume said, "There was a pair of nesting eagles at the end of the lake. Where will they go to get food? The community board told us that they were draining the lake only a few days before it happened. I don't think the community had any plan to save the fish.
"I secured the documents related to the permit from the Fish and Boat Commission, it does mention that fish could be relocated...it's in the paperwork and [they, the board, apparently] ignored it.
"[The commission gave us a window of] opportunity to [relocate] the fish, but [they] missed [an] opportunity to save them...after seeing this I am truly disturbed."
The community secured a Drawdown permit from the Pennsylvania Fish and Boat Commission, according to commission records.
The Pennsylvania Dept. of Environmental Protection (DEP) Dams and Waterways division mandates an inspection every 10 years for pipes and culverts used to drain dams and spillways attached to lakes and large ponds, according to Gamboni. The mandate includes a follow-up inspection two years after each 10-year inspection......For more information pick up a copy at a local vendor or subscribe.