Home Away From Home For Blizzard-Weary Souls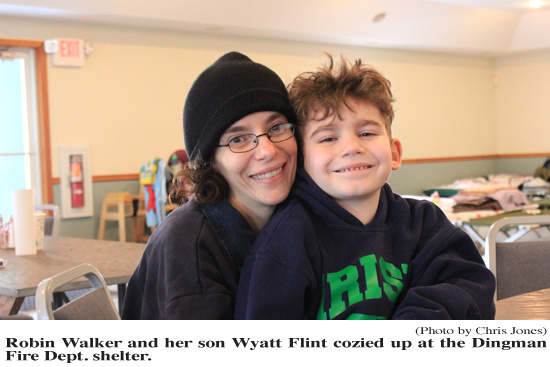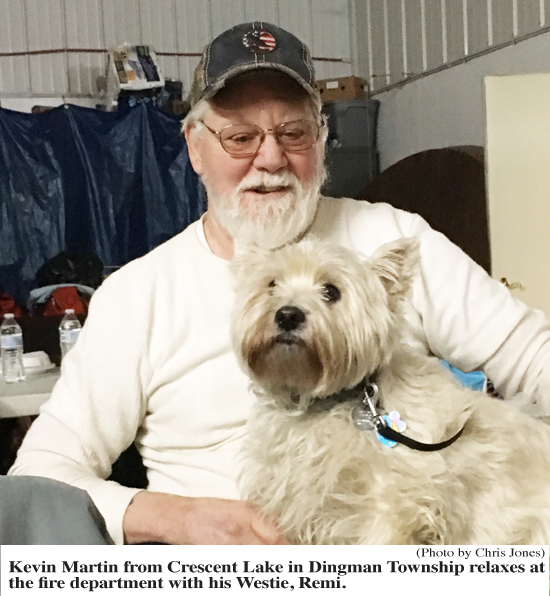 DINGMAN — The storm shelter at the Dingman Township Volunteer Fire Dept. on Log Tavern Road started operation after the power went out on Friday, March 2, and it was still operating a week later.
Joseph DiMeo, fire department president, said that by that time Station 26 had taken care of several hundred people. Some had been there since the morning after the crippling snowstorm, and they were still there a week later, sleeping on about 30 or 40 cots set up in the meeting room and the truck bays. Others were "transients," stopping in for a hot meal, a shower, or to get any available information on the recovery operation, then heading back home after stocking up on ice and hot water, where they tried to stay warm.
Past Chief Bill Mikulak was the coordinator of the shelter, which operated on a generator until the power came back on at 2 a.m. Wednesday, March 7. In addition to feeding people, with food assistance from the Salvation Army, Red Cross and Meals On Wheels, firemen transported people who were stranded in their homes. They topped off the diesel tanks for the trucks and the propane.
"It was rough, but people managed," DiMeo said.
Susan Breitner, 64, said that on the Saturday after storm she was transported to the shelter from her home in Sunrise Lake in an ambulance because a fire truck could not get into her blocked driveway.
She said people stayed because the shelter had everything: food, showers, and EMT's who could assist the sick and elderly.
Communications Disrupted
They even had a charging station for cell phones. However, Robin Walker, who was there on March 8 with her son Wyatt Flint, said there was still no way of getting information with a cell phone.
"There's no way of getting communication. No way to know if we have power," she said. Walker came to the shelter for breakfast on Wednesday, and then stayed during the second snowstorm, because she was concerned about the safety of Wyatt, who has epilepsy.
"There are medically trained people here who can get us where we need to go," Walker said.
She said the school district was the only information source that was keeping people informed with regular posts.
"How are we supposed to SOS, with smoke signals?
"84 and 739 were fine, but this way [eastern end of Log Tavern Road] was the worst. Nothing happens till days later. If they cut trees before the storm… we're responsible to cut our trees."
School was scheduled to reopen Monday in eastern Pike County. Walker hopes the power is back on by then:
"We've run out of laundry. There's no clean clothes."
Repairs Might Take Years For Park Attractions, Trails
BUSHKILL — Delaware Water Gap National Recreation Area (DEWA) staff reported that well over a hundred trees fell at Childs Park in Delaware Township during the March 2 snowstorm, causing significant damage to the boardwalk, trails and stairs.
This is only one facet of the damage throughout the park wrought by late winter storms that could take weeks to assess and possibly years to repair.
"The extent of the storm damage is both significant and widespread and it will take some time – months, perhaps even years in some cases – to repair," said Acting Superintendent Kirsten Talken-Spaulding, who is working to secure additional funds to expedite the recovery process.
"Heavy snow and high winds from the March 2 storm brought down hundreds of trees throughout the park," said Deputy Superintendent Keith Farrar. "A second storm a few days later left several additional inches of snow and further hampered efforts to remove fallen trees and clear snow from roadways. Several roads and trails remain closed in and around the park.
At this time, information is not yet available on the condition of many park trails. Assessments will continue throughout the week as employees are able to get into some areas for the first time since the storms.
"We are asking the public to refrain from hiking on park trails until we are able to get our teams out there this week to assess the damage and the risks to the public from downed trees, hanging limbs, damaged boardwalks and bridges, and accumulated snow and ice," said Farrar.
Damage assessments on the popular 32-mile long McDade Recreational Trail have not yet been completed. Information on the status and conditions of park trails will be posted on the park's website and Facebook page as it is available.
Closed Park Roads In Pa.
• River Road from Park Headquarters to the southern boundary near Hialeah Picnic Area
• Zimmermann Road
• Several township-owned roads that connect with Route 209 remain closed
Closed Park Roads In NJ
• Old Mine Road from Worthington State Forest to Millbrook Village
• Old Mine Road between Mettler Road and Jager Road
• Route 615 from Pompey Ridge to the Old Mine Road intersection
• Mountain Road and the dirt section of Old Mine Road remain closed for the winter
Trails Closed Due To Hazard
• Dingmans Falls Trail
• George W. Childs Park Trails
• Adams Creek Trail
• Hornbeck Creek Trail
These trails sustained significant damage from downed trees and hazardous conditions exist. These sites are closed to all activities until further notice.
Additional trail closures may occur as information on the extent of the damage and potential hazards to the public becomes available.