Borough Approves Letter Outlining Sewer Survey
By Dakota Hendricks
MATAMORAS — The Borough approved a cover letter submitted by HRG for a planned sewer survey.
HRG submitted an outline to the Council detailing why the survey will be conducted and what the results will be used for. Councilman Dayne Losee opposed some of the language in the letter, saying it made the sewer project sound like a necessity. The Council agreed and suggested tweaking the language to better reflect the intentions of the study.
Each municipality must approve the outline before HRG will begin sending out the surveys. HRG says they will need approximately 550 surveys in total and that the survey data will help them organize the on-site visual inspections. HRG will not be digging as a part of the inspection process; instead they will be looking for indications that a septic system is functioning poorly like surface puddling or abnormal plant growth.
Councilman David Clark said that Sewage Enforcement Officer (SEO) Will Whitehead would like to be paid for the research he is conducting for the central sewer project. Clark said Whitehead suggested an engineering fee of $35 per hour. Clark is working on determining whether some or all of the funding will be reimbursable through grant funding or through other means. The Council approved the SEO's request.
The Borough passed an amendment setting standards for property maintenance, outlining potential fines and requirements. Those who do not comply may be fined no less than $300 and no more than $1,000. .....For more information pick up a copy at a local vendor or subscribe.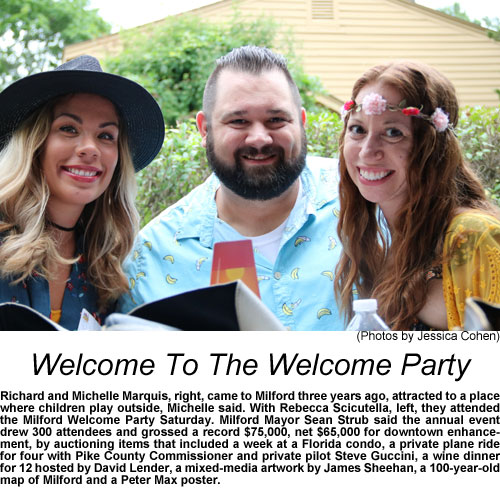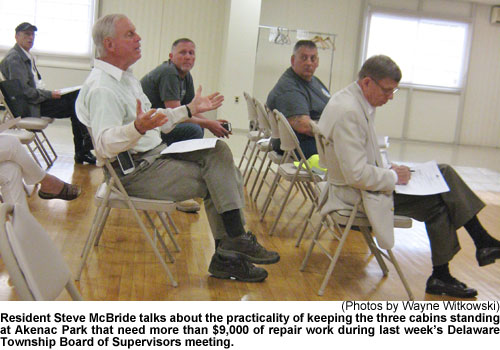 Liquor License Transfer Linked To Route 739 Plaza
By Wayne Witkowski
DINGMANS FERRY — Signs of progress for a planned Delaware Plaza shopping mall on Route 739 resurfaced when Delaware Township Supervisors set a public hearing about the requested transfer of a new liquor license into the township from the Pennsylvania Liquor Control Board.
Supervisors indicated that the request involves a Weis Markets store that will anchor the long awaited plaza. The hearing will take place at 7:15 p.m. during the regularly scheduled June 26 bi-monthly meeting.
Supervisors said they did not know from which business the transfer will take place, but said they understand it's from another Weis store. Speculation indicates it could be the recently shuttered Weis Market in Marshalls Creek on Business Route 209.
Residents will get a clearer idea of the latest updates on the plan and be able to ask questions of the project representatives. Project engineer Joe Hudak of Kiley Associates LLC in Lakeville is expected to attend along with legal representation and perhaps other representation of developer CenterPoint Properties in Atlanta, headed by Charles Miller.
Supervisors bantered the idea whether the liquor department, if approved, would be located in the store or in one of the adjacent buildings.
Groundbreaking originally was scheduled for this past spring.
"It's moving forward," commented Board of Supervisors Chairman John Henderson.
"We're told they plan to break ground in the fall and to open next spring. That's what they say," said Supervisor Rick Koehler with a critical smile.
Also at the meeting, the board agreed to reopen Doodle Hollow Road, which had been closed for the past six weeks. Supervisors unanimously agreed to rescind a 2018 resolution that allowed the National Park Service to close the road to vehicles. "It will remain open," said township administrator Krista Predmore.
The motion followed a lengthy discussion during the workshop that customarily precedes the regular meeting......For more information pick up a copy at a local vendor or subscribe.
Lehman: No New Short-Term Rental Permits For Homeowners
By Wayne Witkowski

BUSHKILL — For the time being, Lehman Township will not issue homeowners any new permits for short-term rentals.
The Board of Supervisors made that decision after a lengthy discussion over another possible change in the recently amended ordinance that will further clarify guidelines on who would be allowed to operate short-term rentals.
It comes in the wake of a state Supreme Court ruling on April 26 in a case involving Abington Township properties that separates short-term rentals from hotels and motels. The ruling overturns a Commonwealth Court decision on an appeal in which that court combined the two ideas – short-term rentals and hotels/motels – into one category.
What it means is that homeowners of the more than 200 township residences that offer short-term rentals must prove they live in the home and not own it solely to rent it out. It would prohibit short-term rentals in homes used solely for that transient use.
The township is not stopping homeowners who already were granted permits to offer short-term rentals. At least, not for the time being.
"They can continue onward but we will be sending letters in the mail when we decide what we will do," said Lehman Board of Supervisors Chairman Rob Rohner.
Rohner said during the meeting that a workshop will be needed and residents can attend for input as they did during meetings that led to the latest ordinance amendment.
Residents in private communities, particularly Saw Creek Estates where most of the short-term rentals in the township are located, may have an ordinance in their community that many of those homeowners can meet. But township Solicitor Don Karpowich pointed out that the township ordinance takes precedence to the one in the private community.
"In that case, if they follow the private community ordinance, they have to follow both, including the township's," Karpowich said.
Rohner pointed out that the current township ordinance requires inspections of short-term rentals to make sure they meet safety guidelines only. What will be considered next in that ordinance are land use standards for short-term property rentals in designated Low Density Residential areas that make up much of the populated areas in the township. Short-term rentals in the LDR must be established in single-family homes also occupied by the homeowner.
"We have to make a distinction between people living there (in short-term rental homes) and not living there, like the case of someone residing there who is away for a week each year and renting it out during that time," said Karpowich.....For more information pick up a copy at a local vendor or subscribe.