Former Commissioner Charged With
Brandishing Gun At Ambulance
MILFORD — Former Pike County Commissioner Harry Forbes was issued a disorderly conduct citation for allegedly brandishing a handgun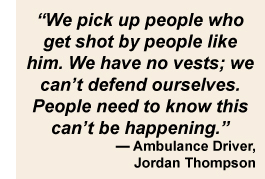 at an ambulance as he passed it in his vehicle on Route 6 in Carbondale Township last December. State Trooper William Shamnoski said that the two crewmen aboard the Waymart ambulance called state police and Forbes was pulled over later in Wayne County.
Jordan Thompson, 25, the driver of the ambulance, said he and attendant Michael Chapman, 24, were returning to Waymart after taking a patient to the hospital, when Forbes came up behind him on the Casey Highway.
"I'm not gonna lie. He scared the **** out of me," Thompson said. "I did nothing wrong. He was in the passing lane so I moved over to the slow lane. I looked over and he was waving his hands."
When Forbes got in front of them, Thompson said, "All of a sudden he was waving the gun between the headrests."
He said his partner took a picture of the license plate and then they called state police on the 9-1-1 radio.
"We pick up people who get shot by people like him. We have no vests; we can't defend ourselves," Thompson said. "People need to know this can't be happening."
The incident occurred on Dec. 31, 2014, which would have been Forbes' last day as director of former Gov. Tom Corbett's Northeast Regional office in Scranton. Two years before, a state employee who filed a whistleblower complaint about a fellow employee who seldom showed up to work stated in a lawsuit that Forbes, while working for Corbett, looked into the whistleblower's claims and allegedly carried a handgun to work, despite policies prohibiting it. Forbes worked in the same office as the whistleblower, but was not employed by the Dept. of Community and Economic Development, the whistleblower's employer.
The whistleblower, Matthew P. Domines, told the Scranton Times in August 2012 that he feared he might be "physically attacked" by Forbes and the target of his complaint. Shamnoski, who now works at the state police training academy, but was with Troop R at the time of Forbes' summons, said that Forbes, [as per Title 18 of the Pa. crimes code, section 5503 (a) (1), disorderly conduct] "with intent to cause public inconvenience, annoyance or alarm, or recklessly creating a risk thereof, engaged in fighting or threatening, or in violent or tumultuous behavior, to wit defendant displayed his handgun to the victims as he passed them in his vehicle."
Status information about the case in the court of Magisterial District Judge Sean McGraw is classified as "awaiting plea" as of June 2... for complete story, get this week's issue.