New PennDOT Building Is Centrally Located
By Jeremy Van Duyne
BLOOMING GROVE — After a long wait, PennDOT has finally unveiled their new maintenance facility for Pike County.
Last Friday morning saw the unveiling of the new facility located over in Blooming Grove Township along Route 739. A ribbon cutting ceremony was held outside featuring guest speakers. PennDOT employees from all departments were included, looking to celebrate the momentous occasion.
The facility has been in development for over 20 years. PennDOT's previous Pike County maintenance facility was located in Milford, having been built back in 1931. Given its age and placement making it difficult for certain areas such as Greentown to access during bad weather, PennDOT wanted a modern, centrally located building and tailored specifically for employee needs. They would hope by doing so that they could become more efficient and be better prepared in the event of weather emergencies.
"This is so important for us because we are now moving from one of the oldest working facilities in Pike County to the newest," said PennDOT District Executive Robert Roman. "It is now centrally located. We can pull people from… all over instead of just the eastern portion. Travel time to and from has been cut in half. Any equipment breakdowns we might have will be handled right here."
Following the ribbon cutting, a grand tour stressed the building's spaciousness and convenience. At almost 30,000 square feet there's plenty of room for office workers' files and technical workers parts and equipment.
There are multiple break rooms situated where each department works. Bathrooms have been built with showers inside them in the event of workers have to pull long, overnight shifts.................................For more information subscribe to our paper.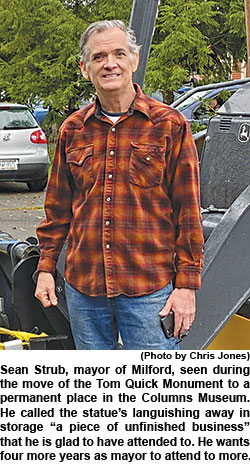 Interview: Strub On His Business, Duties As Mayor
MILFORD — Sean Strub is running for a second four-year term as Milford Borough Mayor. He has called his role as mayor of Pike County's governmental and cultural seat a "bully pulpit," which he has used to promote business and tourism, both while he was owner of his hotel and ancillary businesses, and now that he has sold them. But when it comes down to his mayoral function, his main duties are to supervise the police department, break tie votes, and preside over marriages.
We invited Mayor Strub and his opponent, Lisa Emery, to reach out to the Dispatch about their candidacies. Emery did not follow through on our offer, but Strub sat down for an interview last week. Following are some excerpts from that conversation with Dispatch editor Chris Jones.
Strub: "I am proud of the job I've done with the police department. I think it's one of our huge successes. I'm in the paper a lot, including yours, but I'm never in there about what I've done in the police department.
"On the day I was sworn in as mayor, there was an overdose death down at the Blue [Mott Street] Bridge. I learned that we did not have Narcan in our patrol cars. I knew [the victim] from around town, he was troubled. I'm still haunted that if we had Narcan he would still be alive. We now have Narcan in all our cars. Police Chief Matt McCormack told me we have since used it 12 times.
"We now spend more than 10 percent less on police than before I became mayor. In next year's borough budget, scheduled for a vote in November, raises are proposed making the starting pay commensurate with that of the Eastern Pike Police and the county sheriff, our principal competitors [for officers.]
"It also calls for two additional shifts on weekends and five during the week between Memorial Day and Labor Day...............................For more information subscribe to our paper.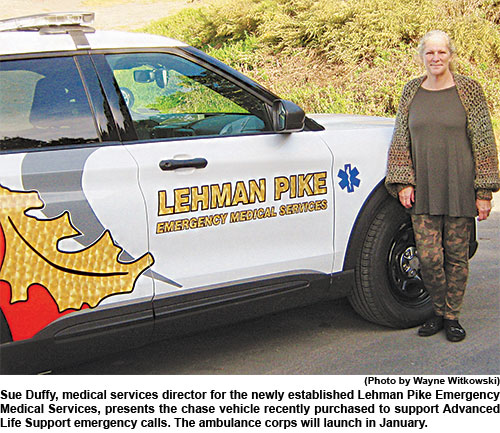 Chase Vehicle For New Ambulance Corps Arrives
By Wayne Witkowski
BUSHKILL — Lehman Township Board of Supervisors, during the monthly meeting held last Thursday afternoon, discussed updates of the Lehman Pike Emergency Medical Services that will launch in January, including choosing the financing for a second ambulance.
On recommendation of Board of Supervisors Chairman Rob Rohner, the township will put zero percent down and finance the $260,741.99 cost of the ambulance over six years of $3,998.82 monthly payments to Volunteers Financing Services. "My thought is to keep as much cash in the emergency services account as possible," Rohner said before the unanimous vote. Other options involved putting 10 percent and 20 percent down.
Supervisors also announced that the recently purchased chase vehicle that will support Advanced Life Support services was delivered to the township and available for anyone to see it who attended the meeting. "Everybody here wanted to take a drive in it," said Lehman Pike Emergency Services director Sue Duffy.
The first ambulance purchased is expected to arrive next month.
She said applications have been coming in for medical positions on the ambulance corps. "And we haven't even advertised for it yet," said Rohner.................................For more information subscribe to our paper.