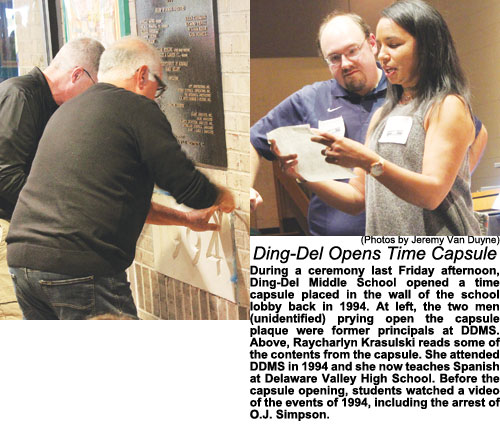 State Lands Closed To Bear Hunt
TRENTON, NJ — With the six-day October bear hunt that started Monday, Oct. 14, Assemblyman Parker Space asked the Legislature to advance his bill (A169) to establish the Fish and Game Council as the sole entity responsible for regulating hunting, fishing and trapping and prohibit the closing of state-owned lands for such purposes without consent from the council.
Last year, New Jersey Gov. Phil Murphy signed an executive order banning bear hunting on all state-owned lands – an attempt at fulfilling a campaign promise that he would end the hunt altogether.
"Before Gov. Murphy took office, we had a sound bear-management plan in place and there is absolutely no reason to stop hunting on state-owned lands," said Space (R-Sussex). "The bear hunt has proven to be very effective at keeping the population in check and limiting human encounters. Murphy's motives are purely political and go against expert recommendations and decades of research."
According to Space's press release, black bears in New Jersey have been responsible for property damage, car accidents, livestock kills, pet attacks, human attacks, and one human fatality (in 2014). A 2016 study by researchers at Utah State University, found human-bear conflicts in New Jersey declined by about 20 percent the year after a hunt. In the years following an absence of a hunt, it rose by approximately the same amount. In 2009, a year without a hunt, there were 2,714 black bear damage and nuisance reports. Last year, there were 703. ......For more information pick up a copy at a local vendor or subscribe.
Supervisors React To News Of Safe Haven Closing
By Wayne Witkowski
DINGMANS FERRY — Delaware Township's Board of Supervisors at its bi-monthly meeting last week passed a number of procedural motions, including one involving the municipal building's re-roofing project.
The board decided, after ongoing discussion at recent meetings about two options, to pay contractor H&P Construction doing the roof job $12,887 toward a continuous snow guard on the roof, rather than a staggered snow guard that some township employees had said may help reduce problems from ice buildup.
Also approved was $650 to renew a preventative maintenance traffic signal agreement with Kucharick Construction, Inc., plus cost of materials. That signal work is on Route 739, which has gotten added importance these days as groundbreaking and preliminary work has begun for the Delaware Plaza project, anchored by a Weis Markets store that reportedly will employ about 150 people.
Safe Haven Closing
Some unspoken, interesting information of the meeting was left in a handout for the public attending the meeting. It was an announcement made earlier in the day by Safe Haven, which is closing at the end of the month after nearly 30 years of service to Pike County victims of domestic and sexual abuse and transitioning its services to Victims' Intervention Program, which has been making major strides of serving the county as well.
"We have to see how this plays out. Safe Haven has had its ups and downs," said Board of Supervisors Chairman John Henderson after the meeting.
Supervisor Jane Neufeld recognized the organization's service to residents of the county but said, "like lots of organizations, it has had its ups and downs." She took note of the two organizations' "competitive services" but said she hopes all good services for victims of domestic violence and abuse will continue.
The release hailed Safe Haven's many achievements, including convening the first meeting of the county's Task Force on Domestic and Sexual Violence in 2011 and its hosting the Tri-State Conference on Human Trafficking in 2014, a training for criminal justice agents and other involved professionals. The release pointed out that in 2016 Safe Haven opened the county's first Children's Advocacy Center, providing sensitive investigations into child abuse cases to minimize trauma experienced by the victimized child and provide the integrity of justice.
It also took credit for the Paint Pike Purple campaign that put purple ribbons up throughout Milford and a candlelight vigil to honor victims and survivors of abuse. Safe Haven established that there are men, as well as women, who are victims of abuse......For more information pick up a copy at a local vendor or subscribe.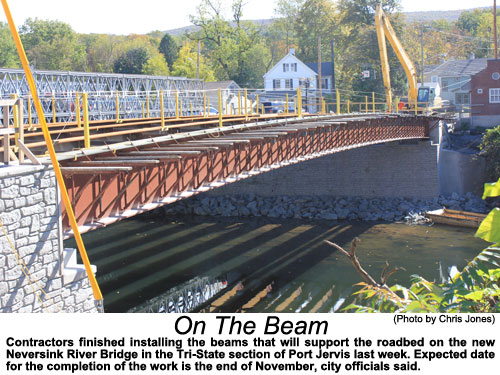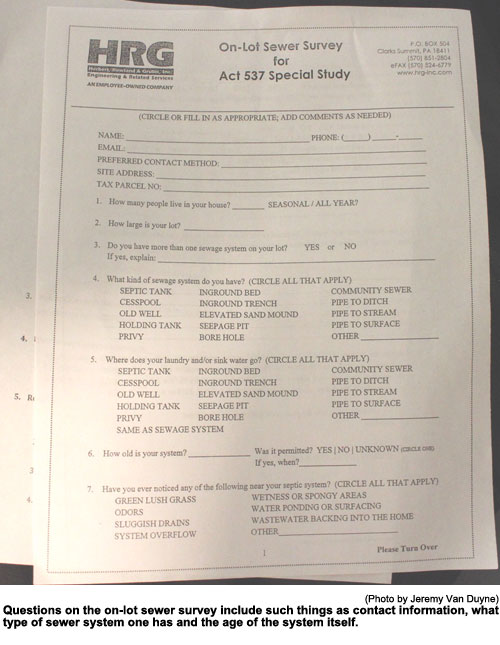 Boro: Cooperate With Sewer Survey
By Jeremy Van Duyne
MATAMORAS — Local officials are urging residents to do their part when it comes to a new survey being conducted.
At the latest council meeting that took place for the Borough of Matamoras, council members handed out a survey that is being conducted to gather information on the different sewer systems that are present in the area.
Council members urged residents to take part in the survey in order for them to gather efficient data on the subject. According to them, more residents need to take part in the survey because they are failing to meet the quota on those who have been surveyed.
"The reports of the returned surveys didn't meet the quota," said Borough Council President Joseph Sain. "They're looking for 200. We have 88 right now."
The survey is only one page and asks only a few questions. Questions on the survey include such things as contact information, what type of sewer system one has and the age of the system itself. With lackluster output from local residents to answer the survey, a new strategy is being developed to get people to take part in it.
"We have put together a letter, and we are mailing it through the water company," said Sain. "We're mailing it over the next couple of weeks in hopes to get more people to respond to the survey. There is a letter from us to encourage it."
"One of the biggest points is that these surveys are necessary for part of the statistics. They help with getting grants and loans. That's probably the most important part of this."
With ongoing discussion of a new sewer system expansion, the survey is being conducted at an interesting time. Information collected from the survey could help determine the scope of the task if the new sewer system project comes to light.
The survey also comes on the heels of an upcoming sewer inspection that will be conducted in Matamoras and Milford. The council announced the inspections at the meeting, attempting to reassure residents that the inspections will be simple and won't be invasive.
"They won't be digging," said Councilman David Clark. "Just in case anyone is wondering. They won't come out and dig up your yard or anything like that. They are just going to come out and look to see where the septic is. They'll make an assessment and ask you a few questions. That'll be it. It will all be over in 10 to 15 minutes."....For more information pick up a copy at a local vendor or subscribe.