9/11 Memorial Largest
By Dakota Hendricks
MATAMORAS- Over 150 residents gathered at the Airport Park Veterans Memorial for the 20th 9/11 Candlelit Memorial service.
American Legion Post #486, Boy Scout Troop 71 and Cub Pack 71 led the presentation of arms while the Broome Street Band provided musical accompaniment to the ceremony. Pastor Leonard Gilpin of the Hope Evangelical Free Church led the first prayer and spoke at length about the duties of Americans to remember the tragedies and heroics of 9/11/2001. Key note speaker Richard Weber of the US Coast Guard, a Matamoras resident, told his story of where he was on 9/11. Weber said he misses unity and patriotism of the America of 9/12. The Ceremony concluded with the playing of "God Bless America" and "Taps" while the audience members held aloft candles.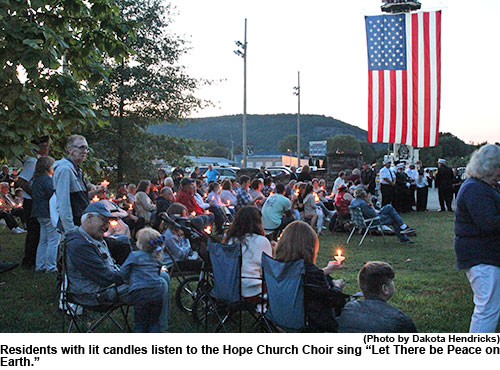 Gateway Project Unveiled To Stakeholders
By Wayne Witkowski
BUSHKILL — A plan conceived 12 years ago was launched on Wednesday last week when the Bushkill Gateway project was unveiled at the first Stakeholders Meeting held at the Lehman Township municipal pavilion.
The plan will revolutionize tourism for that area as well as local residents' convenience. Bushkill Village straddles Lehman and Middle Smithfield townships of Pike and Monroe counties in the southern entry into the Delaware Water Gap National Recreation Area (DEWA). The project covers about a mile and a half from Fernwood to Bushkill Falls Road...............................For more information subscribe to our paper.

Reckless Owners Of Glenwood
Hotel Endanger Residents Again
By Dakota Hendricks
WESTFALL- On Monday September 6th, residents reported construction being done illegally in the waters of the former Glenwood Hotel.
Photos posted online by resident Jay Sileo show excavators digging in the brook, with machinery turning the once pristine waters a muddy sludge color. Several residents said they saw no permits posted and went to speak with the construction workers. The construction company is reportedly out of South Carolina with unmarked equipment and they claimed they did not need any permits for the work. Residents immediately reported the incident to the Fish and Boating Commission, the Pike County Conservation District, the Department of Environmental Protections, the Army Corps of Engineers and any other agency they thought relevant. The waters near the Glenwood Hotel are a protected Class A stream, indicating clean water and great conditions for trout and other wildlife. By the cover of night, the excavators and other equipment disappeared.............For more information subscribe to our paper.