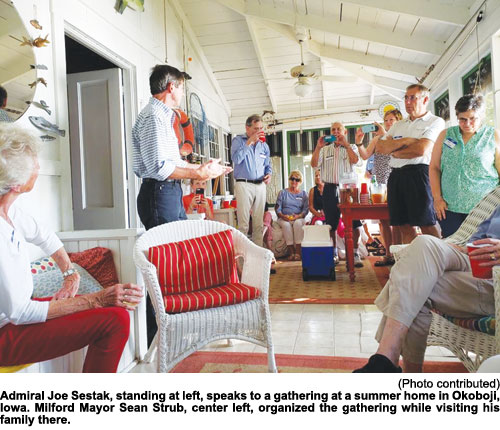 Strub Hosts Sestak Stumping In Iowa
OKOBOJI, Iowa — Milford Borough Mayor Sean Strub, a native Iowan, visits his family every August at a lake in northwest Iowa, and since Admiral Joe Sestak is currently campaigning for the Democratic presidential nomination in the Hawkeye State, Strub recently put together a gathering to give his friends and neighbors a chance to meet and hear him.
On Tuesday morning the mayor sent the Dispatch the following account of the gathering: "Admiral Sestak is a candidate of great integrity with a track record of bringing people together and getting things accomplished. While there are a lot of good Democratic candidates in the race for president, I am partial to Joe because he is the most knowledgeable about foreign policy issues, maintains civility in his discourse – 'disagreeing well' as he puts it – and has a history of effectively building support across party lines while standing strongly for progressive ideals.
"He entered the race late, compared to the other two dozen Democratic candidates, but that is because his daughter's cancer had returned and he wouldn't run until she was in a 'safe harbor, as he puts it. And late is relative; Bill Clinton didn't enter the 1992 race for President until around October of 1991.
The Iowa precinct caucuses are an unusual process that frequently operates independently of the conventional wisdoms held by national pundits and media. At this point in the 1976 or 2008 races, Jimmy Carter and Barack Obama barely registered in the Iowa polling, if at all.
"Having a large number of candidates in the race for the Democratic nomination ensures that a diversity of ideas and priorities will be discussed, it allows the Democratic 'bench' to be displayed and vetted before the broader public, and allows voters to get to know the leaders who are likely to populate the cabinet and senior positions in the next Democratic presidential administration.
"I'll probably organize another event this fall, in Iowa City, when the University of Iowa football team plays Penn State. I know a lot of Sestak supporters from Pennsylvania will be in Iowa then."
Sestak represented Pennsylvania's 7th congressional district in the U.S. House of Representatives from 2007 to 2011 and was the Democratic nominee for the United States Senate in 2010. A three-star vice admiral, he was the highest-ranking military official ever elected to the United States Congress at the time of his election.

Three-Lane Mixed-Use Developer
Gets Mixed Response At Meeting
By Jessica Cohen

MILFORD — Douglas Olmstead, development manager for Legend Properties Real Estate, appeared at the Milford Township supervisors meeting on Monday and offered to do a second presentation on the company's controversial plan for mixed use development, commercial and residential, on the 20-acre Santos Farm parcel on three-lane Route 6-209 in the township.
However, Fred Weber, planning board chair, said, "A second presentation would be bad optics. There's no proposal in front of us."
"Don't make a zoning change based on a proposal," said Amy Eisenberg. "They can make their money and leave town."
"I made the offer because people at meetings are bringing up the project," said Olmstead. "We're not forcing ourselves on the township."
However, meeting attendees had questions for Olmstead. One asked whether the company anticipated pursuing tax increment financing (TIF), which is public financing as a redevelopment subsidy for infrastructure. The mixed use plan, with up to 100 units on 20 acres, would depend on a zoning change and central sewage.
"We don't anticipate using TIF," he said. "It's not financially feasible."
Outside after the meeting, Olmstead, of Pocono Township, explained his company's strategy for their plan. The commercial aspect aims for "market-driven" small retail businesses, including a restaurant and gas station, he said. Current zoning does not allow the combination of residential and commercial development on the same property, and residential would not be possible without central sewage, he said.
"Once there's a pipeline down the three-lane, we would submit land development plans to the township, county planning commission and then state review and Penn DOT," said Olmstead.
Olmstead noted that he had made "informal presentations" to the township supervisors and planning board.
"They said an ordinance change would have to take place to entertain a formal proposal, but no spot zoning would be allowed," Olmstead said. ...For more information pick up a copy at a local vendor or subscribe.

DV Supervisor Gets New Five-Year Contract
By Wayne Witkowski
WESTFALL — John Bell, heading into the final year of a five-year contract as Delaware Valley School District superintendent, got a new five-year contract from the district's Board of Directors last week.
Bell for the upcoming school year is making $193,751. The contract calls for a $3,000 increase for a earning a doctorate, then a 2 percent increase per year.
The first year of the new contract (2020-2021) is $200,686. The following four years pay $204,700 for 2021-2022, $208,794 for 2022-2023, $212,970 for 2023-2024 and $217,229 for 2024-2025.
Bell has headed the district for the past seven years, serving under a three-year contract when he first came to the district from New York State.
He has been Pennsylvania Association of School Administrators (PASA) treasurer the last two years, will be president-elect for this new school year and president in 2020-21.
Bell was selected Pennsylvania Music Educators Association (PMEA) 2019 Superintendent of the Year. He is an adjunct professor at East Stroudsburg University's graduate school of education.
"I'm thrilled the board voted me (for a contract) for another five years," Bell said after the meeting. "I love my job and I love D.V."
The contract rollover is an affirmation of his many achievements, including shepherding an $11 million Career & Technical Education Addition and Renovations Project that he showed in a PowerPoint presentation early in the meeting before his contract was approved. The project should be virtually completed by the start of the school year next week.
"We've seen this project along the way and I can't believe what it looks like now from the last time we saw it," said board Vice President Cory Homer as other board members expressed similar sentiments for the project in the thought process and in development for many years....For more information pick up a copy at a local vendor or subscribe.
Lackawaxen Township Drafting
Short-Term Rental Ordinance
By Dakota Hendricks

LACKAWAXEN — The Lackawaxen Township Solicitor said he has been drafting an ordinance to tackle short-term rental properties.
A Tink Wig Mountain Lake Estates representative said short-term rental properties and the clientele they attract frequently cause damage and don't abide by Association bylaws.
Solicitor Tom Farley said about four months have passed since the state Supreme Court ruled that short-term rental properties do not meet the requirements for single-family dwellings and municipalities are still working out how to regulate them. Farley said he is considering a clause in the upcoming ordinance that would allow homeowner associations to determine whether they would allow short-term rental properties; however, he is still working on how to make the ordinance fair to those not living in an association. ....For more information pick up a copy at a local vendor or subscribe.