Lehman, NPS Discuss Fed Lands Grant
By Wayne Witkowski
BUSHKILL — Delaware Water Gap National Recreation Area Superintendent Sula Jacobs joined county officials and representatives of state lawmakers at Lehman Township municipal building last Wednesday in a big first step toward investing a federal grant that enhances tourism and greater usage of area trails.
In what was billed a FLAP (Federal Lands Access Program) Reorganization Meeting, Lehman supervisors hosted the roundtable discussion to discuss ways to spend the $291,000 executed from the Pennsylvania Department of Transportation that enhances aspects of road infrastructure.
Michael Collins of Simone Collins Landscape Architecture moderated the meeting that targets the area south of the intersection of Route 209 and Bushkill Falls Road for the FLAP funds. Simone Collins also worked over the last 10 years on formulating the Bushkill Village plan that highlights local historic buildings as areas of interest for visitors. That project is ongoing.
Future meetings on FLAP are anticipated over the upcoming months at dates and times to be determined.
Lehman Board of Supervisors Chairman Rob Rohner said he is "very optimistic" about the project going forward, and Jacobs at the end of the meeting praised community groups working together to enhance tourism at the southern gateway of DEWA. Pike County Planner Brian Snyder said it "is going to take some time for a pretty impressive project."
Also at the meeting were representatives of state lawmakers: Frank Mazza, northeast Pennsylvania regional manager for U.S. Sen. Pat Toomey; Aimee Weichsler, regional manager for U.S. Sen. Robert Casey; and April Niver, Economic Development director for U.S. Congressman Matt Cartwright.
Collins said there are three main points to be addressed: a park 'n' ride that will serve both carpooling commuters as well as visitors to the area, a sidewalk area that would connect hikers to the McDade Trail and a pedestrian/bicyclists bridge that would span Bushkill Creek, just beyond an existing two-lane concrete bridge crossing the creek to other local roads.......For more information pick up a copy at a local vendor or subscribe.
Milford Boro Trying To
Reduce Streetlight Cost
By Dakota Hendricks
MILFORD — Councilman Joe Dooley is working to reduce the lighting costs of the Borough after a 63 percent increase over the last 10 years.
Dooley said he met with Mayor Strub and representatives of the electric company to discuss why the electric bill has risen so much and how to address the issue. Borough Council President Frank Tarquinio said the Borough is already working on replacing old streetlights with more energy-efficient LED lighting and discussed potentially metering the poles to determine what lights are a problem and the impact of the LED lighting.
Councilman Luke Turano discussed potentially moving the Borough's Workers Compensation account into a trust that would initially save the Borough $6,000 with the potential for significant rebates for length of time without significant claims.
Turano said the general workers comp and police accounts could be handled by the new company; however, the Fire and EMS workers comp accounts would have to stay with the old insurance company as it is difficult to find an insurance company who will cover Fire after the passing of the PA "Heart and Lung Act."
Milford Township Supervisor Rachel Hendricks spoke to the Council about a multi-municipal comprehensive plan. Hendricks said she attended the meeting to show Milford Township is "turning over a new leaf" and is "more interested in collaboration."
She said the proposed comprehensive plan would include Dingman, Shohola, Milford Townships and Milford Borough in a plan that includes the individually specific aspects of each municipality as well as the overlapping interests of municipalities along borders or things that impact every municipality like the EMS shortage. Milford Township has submitted a letter of support in favor of the Milford Borough Comprehensive Plan Grant request.
Tarquinio said Milford Township might be able to ask Matamoras to participate as well. Tarquinio said there is no reason why the individual municipalities can't work on the comprehensive plan individually and add the joint portions of the plan at a later date.........For more information pick up a copy at a local vendor or subscribe.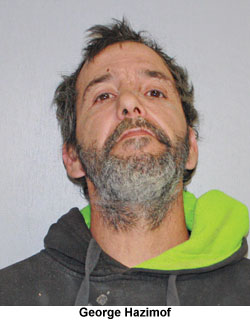 Wayne Man Charged In OD Death

HONESDALE — Wayne County District Attorney A.G. Howell announced last week that a 47-year-old Honesdale man has been charged with selling the drugs that resulted in the fatal overdose of a Honesdale Borough man in September 2019.
George Hazimof, of 167 Orchard Heights, was charged with a single count of drug delivery resulting in death, a first-degree felony, for the overdose death of Jeffrey Canfield of 141 Cottage St., Honesdale.
If convicted, Hazimof faces a maximum of 40 years in prison and a fine of $25,000. He was arraigned before Magisterial District Judge Linus Myers and remanded to the Wayne County Correctional Facility in lieu of $50,000 bail. He was already being held on $60,000 bail in two other cases.
"I want to commend Honesdale Borough Police for an excellent job and thorough investigation in this case," said Howell. "As District Attorney, I will work with law enforcement to investigate every overdose death, and wherever possible, aggressively prosecute those responsible for supplying these deadly drugs." ....For more information pick up a copy at a local vendor or subscribe.
U.S. Supreme Court Denies Appeal
In Trooper Murder
By Chris Jones

HARRISBURG — The U.S. Supreme Court has declined to hear an appeal by convicted cop killer Eric Frein that his rights to counsel were allegedly violated during questioning after his arrest in October 2014.
A Pike County jury sentenced Frein, now 36, to death penalty in the 2014 fatal shooting of state trooper Cpl. Bryon Dickson at the state police barracks in Blooming Grove, Pike County.
Frein was sentenced to death in April 2017. In a similar appeal to the Pa. Supreme Court, Frein's lawyers argued that prosecutors' failure to notify Frein that a lawyer requested by Frein's parents was waiting outside the barracks where Frein was in custody after his arrest constituted a violation of his rights.
But Frein had already waived his Miranda rights and was talking to police and did not know that the lawyer was trying to reach him.
The Pa. Supreme Court justices ruled that regardless of Frein's access to legal counsel and issues of Miranda rights, the statements Frein made while in custody were not a deciding factor in convicting him since there was a preponderance of other evidence implicating him in Dickson's murder and the wounding of fellow trooper Alex Douglass.
Following the shootings, Frein led law enforcement on a 48-day manhunt that ended in Monroe County in October 2014.
Frein is on death row at the state prison in Greene County in southwestern Pennsylvania. Under Gov. Tom Wolf, a moratorium on the state death penalty continues.