DV Board Updates Progress Of CTE Hub
WESTFALL — Work began June 20 and continues steadily on the $11.4 million renovation of Delaware Valley High School's Career Technical Education (CTE) hub that will be completed by the end of 2019.
It's the highlight of the latest five-year capital improvements plan up for renewal at the end of 2020 and was discussed during the workshop that preceded the monthly meeting of the Delaware Valley school board meeting last week. It is the first major revamp of CTE since it opened 40 years ago.
"We're turning it from 1978 when it began – to state of the art," school district Superintendent John Bell said after the meeting as he further discussed the upgrades.
The project is bundled with capital expenditure projects that include replacing the original boilers from when the high school opened in 1970 and new generators and building new tennis courts at the Dingman Delaware campus. There are other smaller improvements included.
The total cost is more than $12 million, and district Financial Administrator Bill Hessling said bundling became necessary to keep costs down after separate bids for capital expenditure projects came in very high.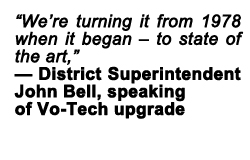 Also planned for a future date are new boilers for the Dingman Delaware campus, built in 1982. That may extend into the next five-year capital improvements plan starting in 2020.
"I see the boilers at the Delaware Valley Elementary School building (opened two years ago) that keeps 98 percent of the heat in the building, at Dingman heat goes 80 percent up the smokestack," school board President Jack O'Leary said. "The new boilers are so much better."
Details OF CTE Construction
As for the CTE project, most of that work takes place during the summer months when classes are not in session. Bell said the electrical program and the automotive section currently are being renovated and will be ready for the fall. Electrical will be ready when school begins and Automotive is taking over two art classrooms with added bays for work on vehicles. Art classrooms will be relocated. It is part of the shuffling going on as divisions are renovated and expanded.
Excavation has begun for a new wing to CTE in the parking and open areas in the back, which will connect with the high school and enhance the STEM (Science, Technology, Engineering and Math) initiative. There will be new Computer Assisted Design (CAD) labs, which include a new engineering classroom and a new wood shop. Locker rooms will be added for students who change for their programs.
A new kitchen and dining room that can seat 60 people for an event will be built for the culinary program. A larger Health Occupations Students of America center will be built with additional space for medical equipment. Early Childhood Education will expand to a third space that has been the Engineering Room. All will be ready in the fall of 2019........For complete story, get this week's issue.
Facebook Page Flare-Up About
Noise Ordinance 'Not A Threat'
LACKAWAXEN — At Monday's regular and workshop meetings held at the township building, Lackawaxen Township supervisors discussed whether to shut down the township's www.facebook.com page after a resident flagged an inflammatory comment that he thought might be a public threat.
Supervisors Mike Mancino and Jeff Shook (Supervisor John Beisel was unable to attend) fielded the question raised by resident Alan Engvaldsen during Public Comments.
Engvaldsen presented a recently posted Facebook comment by another resident that suggested that those that call for township enforcement of noise violations deserve to be shot.
Shook initially said that if necessary, he could favor shutting down the township site, and Mancino asked township Solicitor Tom Farley for a legal opinion on whether such a statement might constitute a public threat and whether supervisors should shut down the township's Facebook site.
After reading the comment, "eventually someone will blow the other neighbor's head off with buckshot," Farley said, "I don't think that this is a public threat. If the resident said, "I would shoot," and he named a [target] person, then that would be a public threat."
Mancino noted that the person making the post was speaking generically and referencing another township resident's complaint about excessive noise and other nuisances.
Mancino said in an interview after the meeting that the township recognizes that the Facebook post was just a resident venting and that it was not a public threat.
Mancino also said, "Lackawaxen is probably the least restrictive township [on quality of life issues] in Pike County.
"We do have the mechanism to enforce noise violations, but it does not cover 99 percent of the incidents relating to residents."
Mancino explained that the township typically would not enforce excessive noise complaints, such as those involving party music, fireworks, using a lawn mower or chainsaw, and target shooting.
Only if the noise were 24/7, regular and persistent, would the township intervene.
The township's Nuisance Ordinance mostly targets excessive commercial noise by machines that exceed a certain decibel level.
Farley said that supervisors might dispatch the township Code Enforcement officer with a decibel-measuring instrument to measure sound at the property line of a parcel on which a company or utility might be using the offending machine.
Mancino noted that another supervisor board about 10 years ago adopted the Nuisance Ordinance after a public hearing.
At the hearing, some residents vehemently complained about the potential intrusion of government on property rights.
So supervisors subsequently restricted enforcement to very specific situations, mostly involving commercial uses.
For extreme nuisances, the ordinance directed the public to call state police. State police would determine if incidents might be criminal, harmful, or threatening to neighbors.
Meanwhile, Mancino said, "We are not shutting down the township's official Facebook site." He said that the site is useful as a forum to post information on upcoming events and to get feedback from residents.. ,..For complete story, get this week's issue.