Township Role Limited In Private Bridge Problem

By Dakota Hendricks

DINGMAN — Dingman Township Supervisors addressed calls by some residents to help repair a damaged bridge on Wykoff Lane.
Residents have expressed concerns over the bridge since an article appeared in the Courier recently. Chairman Thomas Mincer said the Township is unable to repair the bridge, as it is private property. The Township is barred from spending taxpayer dollars on private property; the Township would need to take the property to do anything and then they would be forced to do the same for the other 100 bridges in the Township.
Solicitor John Klemeyer said the Township is even prevented from being given the property/bridge as they cannot accept property that does not meet their standards to prevent being forced to spend taxpayer dollars. The Township is willing to help coordinate with the property owners, seek out information and grant opportunities and provide information on the necessary permitting etc........For more information subscribe to our paper.
Tick Task Force Shares Baseline Study Results

By Chris Jones
MILFORD — Pike County Commissioners last week announced May 2021 as "Tick-Borne Diseases Awareness Into Action Month" and got an update from Brian Snyder, coordinator of the Tick Borne Diseases Task Force, on its first-of-its-kind tick baseline study conducted in partnership with East Stroudsburg University. The public can visit pikepa.org/tick to view a video summarizing the study results.
The Task Force is an initiative of the Pike County Commissioners focused on decreasing the number of tick borne illnesses by building community awareness through education, support, and advocacy. In 2019, its efforts were recognized with an Environmental Partnership Award from the Northeast Environmental Partners.
The baseline study involved the collection and testing of 1,000 black-legged ticks for seven disease-causing organisms, called pathogens, which the ticks may carry. Pike County was divided into a grid of nine sections, with three to five tick collection sites selected per section.
"The rate of tick infection was higher than we thought," Snyder said. He said people could access a video about the study at pikepa.org/tick and figure out in which of the nine sections they spend the most time and judge their risk of a tick bite there.
The black-legged ticks collected were tested for the following pathogens: Lyme disease, Anaplasmosis, Babesiosis, Bartonellosis, Mycoplasmosis, Miyamotoi, and Powassan Virus Lineage II (also called Deer Tick Virus).
Lyme Disease was the most pervasive finding, with 38.77% of the ticks testing positive for this pathogen........For more information subscribe to our paper.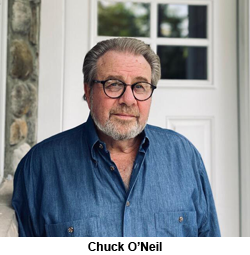 Milford Author Publishes Third Poetry Collection
By Jeremy Van Duyne

MILFORD — Milford Borough is home to a robust community of various artists. These include several local authors who have made their presence known and have left a meaningful impact on the location.
Among the numerous authors that live here include a man named Chuck O'Neil. O'Neil has lived in the township for nearly 40 years, moving to it in 1982 after having bounced around between Connecticut, Rhode Island and New York. He is the owner of a woodworking architecture business, and has been involved in the planning process of the architecture business here in Milford.
O'Neil is also a published author, having published three separate compilations of different poems that he has written.
In 2020 he released his latest poetry collection, "Holding Things Together," a small volume that compiles over two-dozen poems that reflect on O'Neil's surrounding environment.
These include poems reflecting on the process of architecture and building things to everyday activities such as waiting for a delivery to arrive. Reviews of the book describe it as a wonderful compilation of poetry, with O'Neil being praised for transforming his everyday life into a larger piece of work.
"So many of the poems illustrate and illuminate his volume's title," read a review of the book by O'Neil's mentor Eamon Grennan, a poet and translator who teaches at Vassar College near Poughkeepsie, NY.
"For holding things together is precisely what these keenly reflective homages to locality, to family, to continuity, to place and to history do.
"The local is O'Neil's landscape, whether in lovingly unsentimental poems for his wife and family, for his town past and present, or for his natural surroundings. It is a celebration, too, of work – manual, thoughtful, emotionally-aware work –including the work of poem-making itself, out of which he has composed this garland of gifts for the rest of us, holding all together," Grennan wrote. For those interested in getting their hands on a copy of "Holding Things Together," the copies of the book can be found on Amazon alongside the other works that were written by O'Neil........For more information subscribe to our paper.