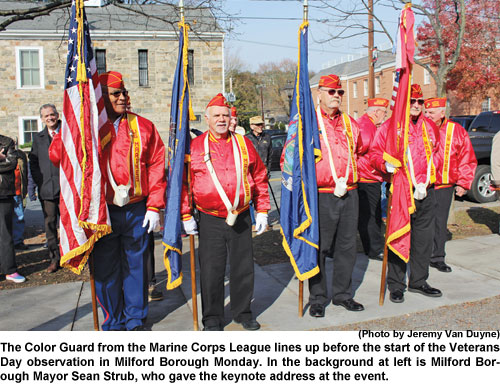 Mayor Highlights 'Hometown Heroes'
By Jeremy Van Duyne

MILFORD — As part of the Veterans Day holiday in the United States, a ceremony was held at Kiehl Park in Milford to honor those who have served their country.
Veterans from all over Pike County attended the ceremony that was held this past Monday morning. The event featured local chapters of the Veterans of Foreign Wars, American Legion and the Marines Corps League putting on demonstrations for those who attended. These included a moment of silence with a bugler and a flag demonstration.
Public speakers also honored those who served. Among them were members of these groups themselves.
"On the 11th hour of 11th day of the 11th month, the fighting of World War I ended in 1918" said Connie Harvey, Commander of American Legion Post 139. "Due to the conclusion of the war to end all wars, Nov. 11 become a universally recognized day of celebration."
Besides highlighting the history of Veterans Day, which was originally known as Armistice Day, the ceremony also highlighted the new way that veterans are being honored locally. Thanks to the efforts and campaigning of a group of military mothers, local residents who have served in the armed forces are receiving recognition by having flags displaying their name and pictures of them in their military uniform installed publicly.
These flags are mounted on utility poles throughout the Delaware Valley School District. In his keynote speech Monday, Milford Borough Mayor Sean Strub highlighted these local people who have served.
"This important purpose of Veterans Day: to celebrate and honor our veterans for their patriotism, love of country and willingness to serve and sacrifice for the common good, is reflected this year in the installation of the Hometown Heroes banners throughout parts of Pike County" said Strub.
"To celebrate and honor our local veterans and service members, I want to thank the six Navy moms who inspired this effort. When the Milford Borough Council signed on to the program, we wanted to make sure the arc of military service from the earliest days of our country was recognized."
The ceremony ended with everyone in attendance being invited to a wreath ceremony at Milford Beach. They were also invited to American Legion Post 139 for refreshments afterwards.
Bushkill Man Found Guilty Of Sexual Assault Of Girl
By Dakota Hendricks

MILFORD — Morris Wayne Beverly of Bushkill found guilty for the sexual assault of a 13-year-old girl in 2016.
Beverly, age 51, and then boyfriend to the victim's mother, was found guilty last Wednesday of four counts of statutory sexual assault; four counts of corruption of minors and one count of solicitation of IDSI (Involuntary Deviate Sexual Intercourse).
A Pike County jury of six men and six women convicted him on all counts after deliberating for about one hour after a two-day trial.
Assistant District Attorney Sarah Ann Wilson in her opening argument said Beverly manipulated the young girl by means of a pregnancy test and accusations of the young girl having STD's.
Wilson walked the girl through the five assaults across the summer of 2016, displayed text messages from the girl's phone and Apple watch with coded messages and played an audio recording of a call between Beverly and the young girl.
Trooper Mark Pizzuti presented a half hour recording of a conversation between the victim and Beverly where Beverly instructs the young girl in ways to avoid the doctor's examination.
Pizzuti was present at the Aug. 27, 2016 intake interview of the girl at the Pocono Medical Center in Scranton. Also present were a trauma nurse, representatives of the Monroe County Child Advocacy Center and the victim's mother. It was decided that since it was more than five days since the last alleged sexual contact, a rape kit would not be performed, Pizzuti said.
Then Pizzuti and Wilson walked through screen shots of messages between Beverly and the girl that were taken from her Apple Watch. It was the mother's discovery of these that triggered the investigation, he said. These messages contained intimate questions from Beverly about whether the girl had her period yet or whether she was pregnant. At one point Beverly messaged, "You're OK."
The pair had worked out a system for using a bunny emoji when they were about to discuss sex......For more information pick up a copy at a local vendor or subscribe.