Inflation Factors Into DV School Budget Outlook
By Wayne Witkowski
WESTFALL — It was only the first budget meeting for the 2023-2024 school year at the Delaware Valley School District Board of Directors work session last week, but there already were indications that more work than usual would be needed to hold the line on school taxes.
Marvin Eversdyke, director of Support Services, and Mark Moglia, chief of the district's School Police, gave presentations reflecting increases in their projected budgets compared to the current school year. District Business Manager Bill Hessling also spoke about rising interest rates for bonds taken out by the district years ago, although funding is available from other areas to fill gaps if needed.
"Let's hold onto that idea for future meetings," said board President Jack Fisher.
Next month's session on April 13 (the regular voting meeting has been moved from April 20 to April 27) will be even more pivotal as salaries of district employees will be reviewed. That category takes up nearly 80 percent of the budget, said Fisher.
District Superintendent Brian Blaum reminded the board that those salary totals may not be totally accurate, as many older teachers and other staff file for retirement, starting in March through the spring months (and typically are replaced by new ones at lower salary scales by the start of next school year).
Eversdyke's handout to board members regarding categories of Transportation and of Operations & Maintenance reflected significant increases. Eversdyke said the future Transportation budget, at this point, shows an increase of $226,000 from the current $2,694,000 to an anticipated $2,920,000. Eversdyke attributed about 96 percent of the increase, which he says is about 8 percent, to rising fuel costs, although the figure may change as market prices fluctuate. He said bus drivers and aides have salary increases due in July. According to Eversdyke, the state covers 61 percent of transportation costs, which includes transporting students to school and to extra-curricular events.
"It's still not increasing as much as overall inflation, which is at 15 percent," said Eversdyke................................For more information subscribe to our paper.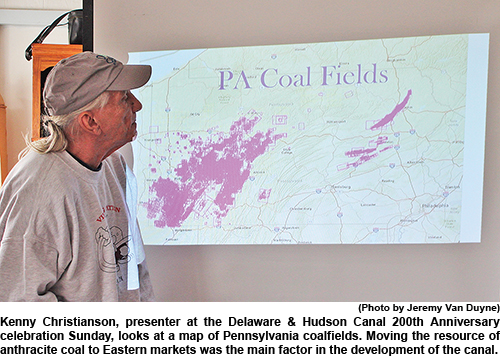 D&H Canal Was Born 200 Years Ago
By Jeremy Van Duyne
LACKAWAXEN — This week marks a historic anniversary for the local area as well as the State of Pennsylvania as a whole.
Monday, March 13 marked the 200th anniversary of the creation of the Delaware and Hudson Canal. On that day in 1823, the Pennsylvania Legislature officially voted to canalize the Lackawaxen River, considered to be one of the most major steps in both the creation and development of the canal.
On Sunday afternoon an event was held in Lackawaxen Township to celebrate the historic occasion. A presentation was held at the Helen Weisman Memorial Meeting and Reading Room that is located in The Rowland Cooperative market in the township.
Canal history enthusiasts packed the room to listen to the presentation, with some bringing along canal historic items such as an old canal horn. The event also featured the presentation of food that was eaten during the days of the canal, made using recipes from that time period.
Lackawaxen River Conservancy board member Kenny Christianson discussed how much of Pennsylvania's history has been shaped by the rich number of resources that lie within it.
Things such as the canal and its role in the coal industry are just one of many examples.
"Just the fact that we have a really old map that lists all this stuff is a testament to the history that Pennsylvania really has been an extractive state," said Christianson when going over an old map of resource deposits in the state. "A lot of our economy and a lot of our history have been tied in with things like mining coal or getting oil out of the ground.".................................For more information subscribe to our paper.