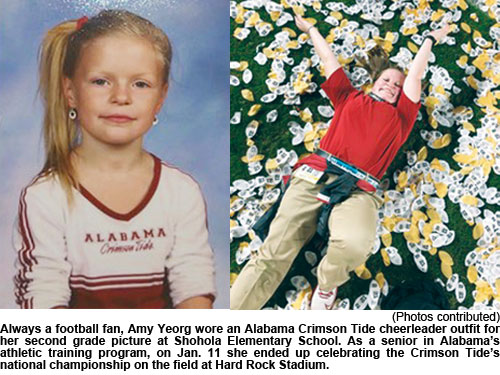 Crimson Tide Wins On Her Field Of Dreams
By Chris Jones
MILFORD — Amy Yoerg, a 2017 Delaware Valley High School graduate, realized a lifelong dream on Jan. 11 when she celebrated – up close and personal – the Alabama Crimson Tide's 18th national championship win over Ohio State on the football field in Miami.
She and her classmates in the University of Alabama's Athletic Training program worked with athletes during both of Alabama's semifinal and final victories. Amy's job was keeping the Tide's offensive linemen hydrated and taped. She calls the 6-foot-7 giants her "big teddy bears – they're so nice to me, but when it's game time it's game time."
As she and her classmates rolled in the confetti covering the field in Miami's Hard Rock Stadium, Amy said she was on cloud nine.
"Its so surreal – when I think back to March, when COVID happened – all I kept thinking was will there be a season, are they going to play football?..For more information subscribe to our paper.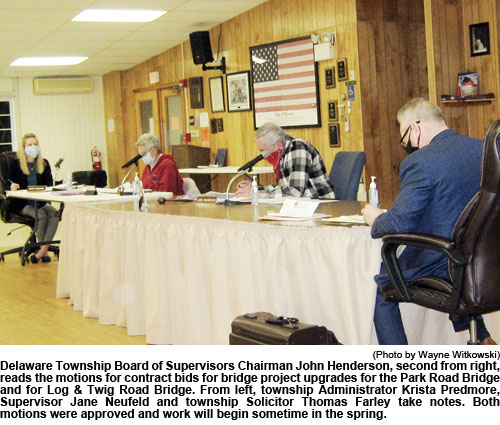 Delaware Approves Bids For Two Bridge Upgrades
By Wayne Witkowski

DINGMANS FERRY — Ongoing infrastructure improvements were approved or planned during the Delaware Township Board of Supervisors first regular meeting of January last week.
The board approved contract bids for bridge project upgrades for the Park Road Bridge by Wayco Inc. for $79,955.75 and for Log & Twig Road Bridge by Minichi Inc. for $44,000. Work will begin sometime in the spring under better weather conditions
It follows up extensive road upgrades done by the township during the fall.
Supervisors also discussed during the workshop prior to the meeting an inspection report dated Nov. 20 they received from the Pennsylvania Department of Environmental Protection with recommendations for the Pine Crest Lake Dam at Akenac Park. The report recognized the need to fill some low areas and depressions and stated that "shoreline erosion along the upstream face of the dam appears to be a concern." It also said the right side of the primary spillway weir is visibly eroded and must be repaired.
"We can do that," said township Department of Works Roadmaster Vince Flatt. "It's lining rip rap and doing cement work."...For more information subscribe to our paper.
Phase 1A Of COVID-19 Vaccination Plan
MILFORD — Pike County's Emergency Management Agency and Board of Commissioners are continuing to work with state and local partners to ensure that the COVID-19 vaccine is administered to all county residents included within Phase 1A of the State Department of Health's COVID-19 Interim Vaccination Plan, which includes:
• Healthcare personnel
•Emergency Medical Services (EMS) first responders
• Residents of long-term care facilities
To expedite this goal, the Commissioners convened a January 15 meeting of partners including the PA Department of Health; and regional emergency management, health care, and safety officials to develop a pilot program that can become a model for mass vaccine distribution within rural counties that do not have a hospital.
As this model is implemented to complete vaccination of those within Phase 1A, it can also be utilized to accommodate those within Phase 1B, which is a much larger segment of the population, currently including:
• People ages 75 and older
•People in congregate settings not otherwise specified as Long Term Care Facilities and persons receiving home and community-based services
• First responders
• Correctional officers and other workers serving people in congregate care settings not included in Phase 1A.
• Food and agricultural workers
• U.S. Postal Service workers
• Manufacturing workers
• Grocery store workers
• Education workers
•Clergy and other essential support for houses of worship
• Public transit workers
• Individuals caring for children or adults in early childhood and adult day programs
For the latest updates on vaccinations in Pike County, visit www.pikepa.org and click on the Vaccine link under the COVID-19 heading.
Lackawaxen Supporting Greeley VFD Upgrades
By Dakota Henricks
LACKAWAXEN — Lackawaxen Supervisors decided to grant a request by the Greeley Volunteer Fire Department for $14,000 to reduce the loan amount for new gear.
Assistant Fire Chief Kevin McCullough gave a detailed breakdown of the costs to purchase 19 new 3M Scott air packs and masks. With the aid of the Township, the GVFD can reduce the cost of the upgrade of $114,750 to an amount the department can cover over the next 10 years.
McCullough explained that if the upgrades are purchased within the proper time frame, these packs theoretically could last 45 years and save the Department and Township a lot of money.
The Township received a letter from Palmyra and the Tafton Ambulance indicating municipalities without services will need to start contributing to the rising costs of their paid ambulance service.
The Lackawaxen Supervisors said they would review the number of responses at the end of 2021 and see if there is a large discrepancy between the municipalities. Chairman Jeffrey Shook said it feels like the number of calls between the two municipalities will be "a wash" with how often the two support each other...For more information subscribe to our paper.