Tour Reveals Storm'Armageddon'
At Childs Park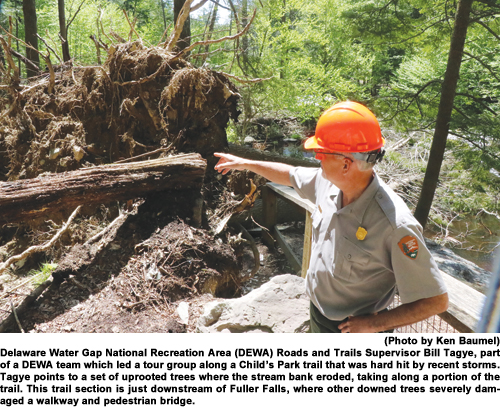 DINGMANS FERRY — Sections of Delaware Water Gap National Recreation Area (DEWA) were so devastated by Riley/Quinn storms in March and last weekend's rainstorm, according to DEWA Public Affairs Specialist Kathleen Sandt, that areas most damaged, such as Child's Park in Dingmans Ferry, might be closed to the public for years.
Sandt and DEWA Roads and Trails Supervisor Bill Tagye, accompanied by DEWA park rangers, led a media tour of a one-mile Child's Park Trail section to show the incredible damage. They also explained how DEWA plans to clean up and rehabilitate not only Childs Park, but also other areas that DEWA had to close due to damage.
Sandt termed some of the damaged areas closed to the public, such as Childs Park, Dingmans Falls, and Raymondskill Falls (among the most popular destinations in DEWA) as Armageddon.
Much of the damage occurred when a set of conditions converged during Riley/Quinn storms. The conditions were supersaturated wet soil, high winds, and heavy snow accumulation on upper branches, on aged, tall, and stately trees. The top-heavy trees with very shallow root systems could not withstand the high winds. When the century-old trees toppled over the root system often took out the embankment, noted Tagye.
The tour group had to climb over many huge trees downed tree trunks across the trail. Some trees damaged bridges........ For complete story, get this week's issue.
Know Before You Go: What's Open – Closed
DINGMANS FERRY — Although some park areas are closed, DEWA Public Affairs Specialist Kathleen Sandt said that the rest of the park is preparing to open for the warm-weather season.
Sandt gave the following update on what is open and what is closed.
• Pennsylvania sites and trails that will not open this summer due to hazardous conditions: Dingmans Falls Visitor Center and Trail; George W. Childs Park; Adams Creek Trail and drainage area; Toms Creek Trail; Hornbecks Creek/Indian Ladders Trail.
• Pennsylvania trails that are currently closed, but are likely to re-open later in the season: Cliff Park Trails, including Hackers Falls; Hidden Lake Trail; Two Ponds and Scenic Gorge trails at Pocono Environmental Education Center (PEEC); Conashaugh Trail.
• Pennsylvania trails that are now open: Appalachian Trail; Raymondskill Creek/Falls Trail; Arrow Island Trail; Slateford Loop Trail; McDade Trail (except the section between Conashaugh and Pittman Orchard trailheads;) Tumbling Waters, Fossil, Sensory, Ridgeline, and Trail for Everyone at PEEC.
• New Jersey trails closed due to hazardous conditions: Kaiser Trail; Van Campens Glen Trail. All other New Jersey trails are open.
• Kittatinny Point Visitor Center in New Jersey is open from 9 a.m. to 5 p.m. from Friday through Sunday from May 25 until Sept. 3;
• All beaches and boat/canoe launches are open for the season.
• All picnic areas are open except for those at George W. Childs Park and Van Campens Glen. Check the park website for group size limits and restrictions.
• Valley View and Rivers Bend group campsites are open. Call (570) 426-2432 for information on fees and to make reservations;
• Dingmans Campground offers tent and RV sites. For more information, visit their website at Dingmans Campground. A complete list of campgrounds in the surrounding area is available on the park's website, www.nps.Rov/dewa.
County Files Suit Vs. Opioid Manufacturers & Distributors


MILFORD — Pike County Commissioners at their meeting last week talked about their lawsuit filed recently against pharmaceutical manufacturers and distributors of prescription opioid painkillers that have become an addictive epidemic locally and nationwide.
"It's important that Pike County takes a direction for making and holding people responsible for what they've done," Board of Commissioners Chairman Matt Osterberg said.
"We have to stop this nonsense. It's out of control," Osterberg said.
Osterberg spoke at the previous meeting about six Pike residents who died from drug overdoses over a recent two-week stretch. Ten Pike residents died from overdoses last year, the suit claims.
An announcement jointly issued from law firms Simmons Hanly Conroy and Young Ricchiuti Caldwell & Heller says they have jointly brought suit in state court for Pike County against a long list of defendants. They include drug makers Purdue Pharma L.P.; Purdue Pharma, Inc.; The Purdue Frederick Company, Inc.; Teva Pharmaceuticals USA, Inc.; Cephalon, Inc.; Johnson & Johnson; Janssen Pharmaceuticals, Inc.; Ortho-McNeil-Janssen Pharmaceuticals, Inc.; Janssen Pharmaceutica, Inc.; Endo Health Solutions Inc.; and Endo Pharmaceuticals, Inc. Three drug distributors named in the lawsuit are McKesson Corporation; Cardinal Health, Inc.; and AmerisourceBergen Corporation.
Commissioner Steve Guccini said that because of the large number of Pennsylvania counties filing suit they have been consolidated into the Delaware County courts for pretrial proceedings. Guccini could not specify how many counties have sued but said there are "quite a few."
From there, it will be determined which ones would go to trial. Guccini could not specify the timeline of the process. "It's hard to say. It's beyond months," Guccini said.
In addition to Pennsylvania, Simmons has filed similar litigation on behalf of more than 140 municipalities in California, Connecticut, Louisiana, Iowa, Illinois, Indiana, Missouri, New York, North Carolina and Wisconsin.
The release says the complaint seeks relief for Pike County that includes compensatory and punitive damages "for the millions of dollars it spends each year to combat the public nuisance created by the drug companies' deceptive marketing campaign that misrepresents the safety and efficacy of long-term opioid use." It says the crisis has strained the county's human services, social services, court services, law enforcement services, the office of the coroner/medical examiner and health services, including hospital, emergency and ambulatory services. Cumulatively, costs run into the millions of dollars.
According to the complaint, Pennsylvania saw a 20.1 percent increase in overdose deaths related to opioids in 2015, as compared to the previous year. In 2016, Pennsylvania coroners and medical examiners reported 4,642 drug-related overdose deaths. The rate of drug-related overdose deaths in Pennsylvania increased from 26.7 per 100,000 in 2015 to 36.5 per 100,000 in 2016, well above the national average (16.3 per 100,000). Pike County had seven overdose deaths in 2015 and 10 overdose deaths in 2016, a 42 percent increase in only one year....For complete story, get this week's issue.