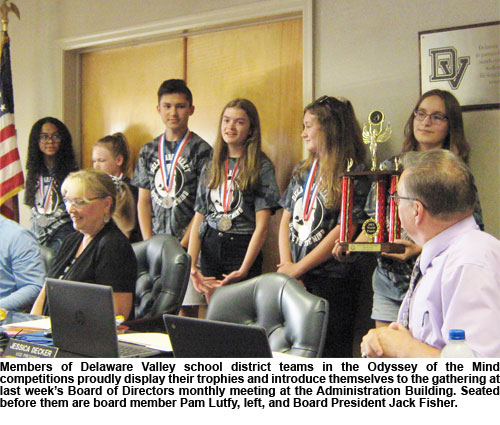 DV School Board Cancels
'Controversial' Textbooks
By Wayne Witkowski

WESTFALL — As the Delaware Valley School District Board of Directors unanimously tabled a motion effectively cancelling eight new, and many of them controversial, textbooks, they got an unusual response at a packed district's Administration Building last week.
A spirited, standing ovation.
The board's decision cancelled usage of textbooks, particularly ones on social studies and English that came under fire. Others covered physical education, business and special education. Seven textbooks were proposed for high school classes and another for middle school.
That decision followed more than an hour of heartfelt, passionate speeches that one member of the community in the audience called "extraordinary" and left the school board following the suggestion of many in the audience to establish a committee of teachers, board members and parents to examine alternate textbook choices.
By tabling the motion the board kept open the process of vetting and approving a book committee's new choices.
Those eight classes instead will continue to use the same textbooks as last school year, and new ones would be approved for the 2021-2022 school year.
Members of the audience pointed out that there had not been enough time – about a month – for the selection process.
"This has been coming to a head," said board President Jack Fisher as fellow board members said there were "red flags" emerging on the issue.
A number of members of the audience said they had purchased, or "rented," some of the textbooks in question and two said they were "shocked" with what they read. One said the English textbook even included offensive language. During her lengthy, detailed discourse, Tara Paradis said the proposed American history textbook had 21 out of 32 chapters devote considerable attention to slavery, which would enhance negative thinking about the history of this country by young people and increase division in this country.
"Many examples in the new textbooks indoctrinate children into socialist thinking," said Anastasia Theodoropoulos. She spoke of "safeguarding education. We're not here for cultural instruction."
Those and other comments criticizing the textbook choices received rousing applause, even cheers, from the audience...........For more information subscribe to our paper.
Mata DPW Pushes
For Garbage Run
Starting At Dawn
By Dakota Hendricks

MATAMORAS — The Matamoras Borough Council dickered over how early in the morning to start trash collection and whether or not to continue zooming meetings, resulting in several confusing back and forth motions.
The Council began arguing over whether they could violate their own noise ordinance to allow garbage collection to begin at 5 a.m. The Borough noise ordinance says activities can begin at 7 a.m. "Lame duck" Councilman Peter Sigreto said the DPW crew would like to avoid the majority of the heat, and the garbage collection already violates the ordinance beginning before 6:30 a.m. twice a week. Councilman Kevin Rose said the Borough would not be able to fine residents for beginning work or being noisy before 7 a.m. Rose opposed having a second set of rules for residents than the Council. The Council tabled discussion of the proposal.
Council President Joe Sain proposed paying someone to run the Borough Zoom meeting, audio equipment and the recording. Despite budget woes, the Council discussed first $25 then $50 and finally $100 a month to run the program. The Council argued back and forth, approving and revoking approval back and forth while residents in attendance questioned paying someone to "start a Zoom meeting."
Councilman Dayne Losee eventually successfully motioned to remove Zoom streaming of the meetings entirely despite the Council having spent several thousand on audio and video equipment. .........For more information subscribe to our paper.
Delaware Twp. Eyeing Short-Term Rental Ordinance
By Wayne Witkowski

DINGMANS FERRY — There's another outbreak in the region and it's not another variant of COVID-19 or the flu.
Hundreds of owners of second homes are using those properties as short-term rentals.
"It's all over northeast Pennsylvania," said Supervisor Jane Neufeld after last week's Delaware Township Board of Supervisors bi-monthly meeting that included a discussion on the subject during the workshop. And that includes her township that has more short-term rentals in residences and private communities than some residents might suspect.
"Just look at the Airbnb website," said Neufeld of the online getaway booking agency.
"We're getting a lot of calls (from homeowners) asking if they have to be permitted (for short-term rentals)," said township Administrator Krista Predmore.
During the workshop, Predmore said, "A lot of properties are being bought and used for short-term rentals" in the township, including one in her neighborhood.
At this point, no permits regarding short-term rentals are written into township codes.
But that may change soon.
Supervisors agreed to take time to further examine 90 pages of material on townships that have short-term rental ordinances and other detailed township code information. They'll discuss adopting their own township ordinance at the next workshop and meeting on July 28. Neighboring Lehman Township, which has well over 200 properties offering short-term rentals, had an ordinance enacted in October 2018 that has had amendments approved in recent months. Lackawaxen Township also has a short-term rental ordinance that was discussed by Delaware Township Solicitor Tom Farley, who also is solicitor for Lackawaxen.
Dingman Township likewise has an ordinance on short-term rentals and, although Milford Borough does not, it does not allow rentals for less than 30 days........For more information subscribe to our paper.