Hall Snubs Smoky Joe, But Pike Doesn't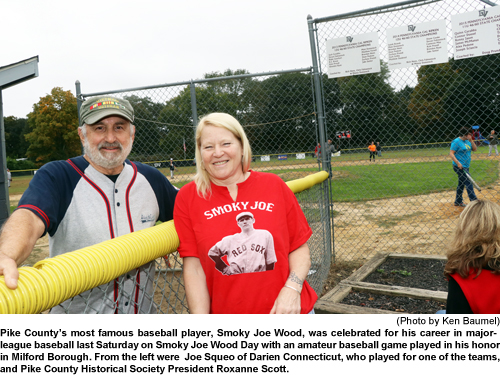 By Ken Baumel

MILFORD — Buddies Babe Ruth and Smoky Joe Wood pitched for the Red Sox early in the 20th century. Ruth was ushered into the Baseball Hall of Fame at its inaugural induction in 1936, but, Wood, whose pitching was stronger than Ruth's, has yet to make it.
Wood lived in Shohola Township for part of his life and is buried there. Ruth used to visit Wood and they hung out at Rohman's Inn bar. According to Nancy Greening of Milford Borough, Ruth even stayed at a friend's house in Milford Borough.
Though Ruth's batting prowess was so prodigious that his 60 home runs in one season was a benchmark that stood until 1961, and though his Boston teammate earned three World Series awards and set pitching records that also stood for decades, Wood has languished in obscurity at the national level.
Yet locally, Wood is remembered. For the past 11 years, the Pike County Historical Society and others celebrate Smoky Joe Wood Day around the playoffs and World Series season.
This year, the society, Pike County Commissioners, Milford Lions Club, and the Dimmick Inn hosted an amateur World Series pick-up game, honoring Wood at the East Catherine Street baseball field in Milford Borough.
The event keeps getting better each year, according to Columns Museum curator and director Lori Strelecki. The game entered full swing after Milford Mayor Sean Strub threw out the ceremonial first ball. The players, co-ed amateurs and volunteers, mostly from the community, played for the Jerks or the Quirks.
Spectators got free hot dogs and hamburgers. And after the game, players and spectators trooped to the Dimmick Inn for free pints of beer.
Strelecki's play-by-play was humorous and elevated interest. She was free to use the microphone and not rattle some residents' cages regarding noise. At one point during the game, she said, "A few years ago, we had a noise complaint from a resident."
Dimmick Inn Co-owner Andrew Jorgenson, who was in the batter's box during her comment, said, "Yes, I remember that, but that resident no longer lives in town.". .......For more information pick up a copy at a local vendor or subscribe.