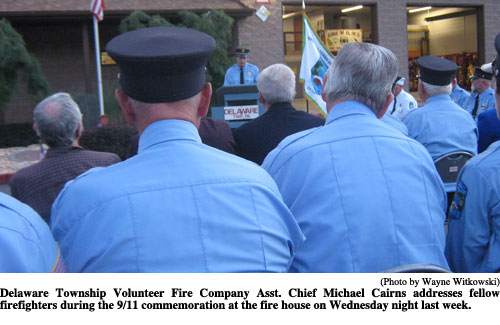 Meeting Time-Out For 9/11 Tribute
By Wayne Witkowski
DINGMANS FERRY — What was expected to be a brief, routine agenda for the Delaware Township Board of Supervisors at its bi-monthly meeting last week included a solemn, emotional observance of the 18th anniversary of the 9/11 terrorist attacks, when commercial airlines were hijacked and crashed into the World Trade Center and the Pentagon.
Supervisors, at the conclusion of their workshop that routinely precedes the regular meeting, left the room and headed to the Delaware Township Volunteer Fire Company for the hour-long ceremony before returning to complete their normal business.
It's only the third time that the Board of Supervisors meeting occurred on the same day as the 9/11 tribute.
Supervisors and all of the public at the board meeting headed down Wilson Hill Road to the firehouse nearby where State Rep. Rosemary Brown, R-89, who spoke to the gathering, and Pike County Board of Commissioners Chairman Matt Osterberg joined 16 members of the fire department that included fire company President Ed Hammond, event organizer Asst. Chief Michael Cairns and Lt. Mike Moffa, and many residents.
"This is where I want to be today, with our firefighters and emergency responders," said Brown. "They are amazing people."
"This is the largest gathering over the past five years," said former Delaware Township fire chief George Beodeker. "They say wounds heal as time goes by, but we will never forget."
Fire Chief Sean Hughes laid a wreath at the commemorative garden that had been set up by the fire company after the 9/11 attacks. The wreath honored the 344 firefighters who perished in rescue efforts that day.
"The mission was to save as many lives as possible," said Hughes. "We lost a lot, but we saved a lot."
Fire chaplain Ted Parsell gave a heartfelt prayer. Hughes's wife, Stacey, and daughter, Kayla, gave emotional speeches, with his daughter choked up with tears as she ended her emotional speech.
A video and musical score also was presented as some people sniffed through tears.
Beodeker talked about the difference between a legend and leaving a legacy, which he feels members of any fire department are tasked to do for other firefighters.
"That is our legacy, an amazing legacy," Beodeker said.
Cairns said that every year he selects one firefighter who perished at Ground Zero to learn more about that person. This year he selected a chief from Brooklyn, as he recounted his many achievements and acts of bravery and his final day of service....For more information pick up a copy at a local vendor or subscribe.
Sewer Study Engineer Going
Door-To-Door In Matamoras
By Dakota Hendricks

MATAMORAS — Engineering firm HRG submitted a letter to Matamoras Borough indicating they have received only 25 percent of the responses necessary to complete their sewer study in the borough and will be going door-to-door in hopes of completing the rest.
HRG has requested to meet with each municipality involved in the study. The survey results will be used to prioritize on-site inspections, which homeowners may refuse. HRG will not be digging as a part of the inspection process; instead they will be looking for indications that a septic system is functioning poorly like surface puddling or abnormal plant growth.
The data collected will be used to complete a Regional Act 537 plan outlining broad strokes for the community in the coming years, exact costs of sewer expansion, timeline of expansion and recommendations on the best systems to implement. Borough Council President Joseph Sain said the council would meet with HRG on September 18th. ...For more information pick up a copy at a local vendor or subscribe.
Milford Twp. Officials Rebut
Mixed-Use Plan Objections
By Jessica Cohen
MILFORD — Objections to a proposal for mixed-use zoning, allowing 100 residential units on 20 acres, took up much of the Milford Township supervisors meeting, as is usual lately, except that township Solicitor Tony Magnotta pointed out that developers could work around opposition.
When Gary Clark, supervisor chair said, "We're being proactive: developers could bulldoze through," Magnotta said, "There's no mixed use, but there could be."
After the meeting, he explained, "Developers could petition the board for a curative amendment because our obligation in zoning is to assure that all reasonable uses are accommodated. Mixed use is not listed in Milford Township zoning, unlike other Pike County townships and Wayne, Monroe and Lackawanna Counties."
"You say you have no development proposals before you, but Olmstead is here every meeting," Chuck O'Neill said, referring to Douglas Olmstead, development manager for Legend Properties Real Estate.
"He's waiting to see how it's going. He has no application," said Clark.
James DePetris, CEO of Legend Properties, Inc., attended the meeting with Olmstead. They have a mixed-use proposal involving apartment buildings on a Route 6-209 parcel that Olmstead previously offered to present.
Bonnie LaFe suggested building condominiums instead. "Condo owners have more invested in the community," she said. "What shops would move into an area of Section 8 housing?"
Amy Eisenberg again expressed concern about adequacy of emergency services for a larger population, citing a recent family emergency that required ambulances from Milford Borough.
"If there's a delay in emergency responses, I hold you responsible," Eisenberg told supervisors. She also asked why emergency plow drivers were not hired.
"We make a $6,000 donation to the borough ambulance yearly," said Clark, but contended that plow drivers are unavailable because of the many construction jobs at union rates.....For more information pick up a copy at a local vendor or subscribe.