Pike County Copied To CDC's Coronavirus Risk Assessment Plan
By Chris Jones
MILFORD — Pike County has been included in the distribution of a Coronavirus Risk Assessment Plan, a local official said last week. The plan was issued by the federal Centers for Disease Control & Prevention and the Pa. Dept. of Health.
Pike County Emergency Management Director Timothy Knapp said that Pike County, like Philadelphia and Allentown, was included in the distribution because of its proximity to the New York Metropolitan Area and other population hubs.
The plan is entitled, "Guidance for Risk Assessment and Public Health Management of Persons with Potential 2019 Novel Coronavirus (2019-nCoV) Exposure in Travel-associated or Community Settings."
"The Pennsylvania Department of Health (DOH) is releasing the following updated guidance based on guidance released by the Centers for Disease Control and Prevention (CDC) on February 3, 2020, for assessing and managing patients and travelers with potential 2019 novel coronavirus (2019-nCoV) exposure."
The plan goes on to say the transmission is a Health Advisory that provides important information for a specific incident or situation, but it may not require immediate action.
CDC is closely monitoring an outbreak of respiratory illness caused by a novel (new) coronavirus (named by the World Health Organization as "2019-nCoV") that was first detected in Wuhan, Hubei Province, China and which continues to expand. Chinese health officials have reported thousands of infections with 2019-nCoV in China, with the virus reportedly spreading from person-to-person in many parts of that country. Infections with 2019-nCoV, most of them associated with travel from Wuhan, also are being reported in a growing number of international locations and the United States. The first confirmed instance of person-to-person spread of 2019-nCoV in the United States with this virus was reported on January 30, 2020.
Much is unknown about how the new coronavirus, spreads. Current knowledge is largely based on what is known about similar coronaviruses, a large family of viruses that are common in many different species of animals, including camels, cattle, cats and bats. Rarely, animal coronaviruses can infect people and then spread between people such as with SARS, MERS and now with 2019-nCoV.
Most often, spread from person-to-person happens during close exposure to a person infected with 2019-nCoV. Person-to-person spread is thought to occur mainly via respiratory droplets produced when an infected person coughs, similar to how influenza viruses and other respiratory pathogens spread. These droplets can land in the mouths, noses, or eyes of people who are nearby or possibly be inhaled into the lungs. It is currently unclear if a person can get 2019-nCoV by touching a surface or object that has the virus on it and then touching their own mouth, nose, or possibly their eyes.
See accompanying diagram.....For more information pick up a copy at a local vendor or subscribe.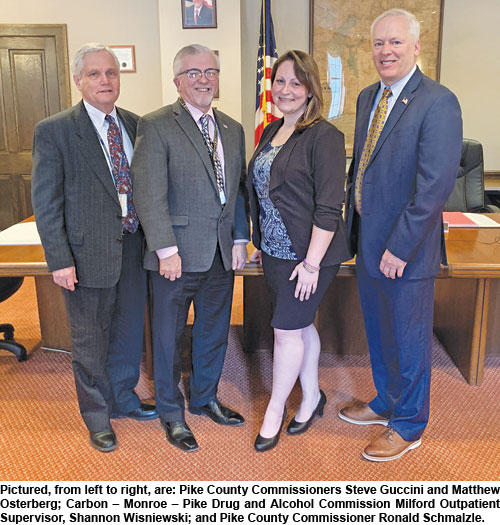 Carbon – Monroe – Pike Drug And Alcohol Commission
Local Office Now Open
MILFORD — The Carbon – Monroe – Pike Drug and Alcohol Commission, Inc. opened its Pike County office in early January, at 10 Buist Road, Suite 201, in Milford.
Services offered at this location include drug and alcohol assessments, case management, outpatient and intensive outpatient services, individual and group counseling services, Court Reporting Network Evaluations, and the Alcohol Highway Safety Program.
The office is open Monday, Tuesday, and Thursday, from 8 a.m. to 5 p.m.; Wednesday, 8 a.m. – 8 p.m.; and Friday, 8 a.m. to 4:30 p.m.
The Commission is the single county authority working with the local community and stakeholders to ensure that uninsured or under-insured clients are able to access the full continuum of drug and alcohol services to meet their recovery goals.
There is a 24/7 Hotline (866-824-3578) through which clients can access treatment and speak to a case manager.
Pike County's previous drug and alcohol provider, Catholic Social Services, left in late 2019 due to a lack of funding........For more information pick up a copy at a local vendor or subscribe.