Advocacy Center Kicks Off April Campaign
By Chris Jones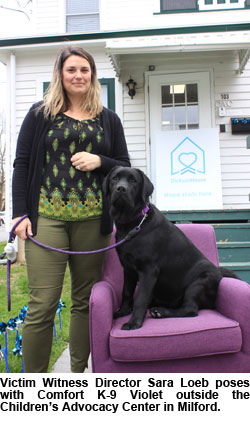 MILFORD — To raise awareness of April as Child Abuse Prevention Month, District Attorney Raymond Tonkin announced that Dickson House – Children's Advocacy Center (CAC) is conducting a month-long campaign.
The current schedule includes a variety of events to inform the public about the work to investigate, prosecute, prevent and assist children with healing from child abuse and interact with the professionals who work at Dickson House.
Starting off at the April 7 Pike County Commissioners meeting, the CAC presented a proclamation to announce April as National Child Abuse Prevention Month. Tonkin thanked the commissioners for their support of the CAC, and Director of CAC Services Sarah Wilson explained the colorful pinwheel display on the front lawn of the Dickson House at 103 W. High St., Milford. Following the Commissioner's meeting, county officials held a short commemoration in front of the display.
Wilson said the pinwheel is a national symbol of child abuse prevention because it represents the playfulness and good spirit of children. The more disturbing aspect of the pinwheels is that there are 153 of them, one for every child who came through the Advocacy Center in 2020.
"We expect even more in 2021," Wilson said.
On Friday, April 9, Violet, Dickson House's AKC-registered Labrador in training to be a comfort K-9, sat in her purple comfort chair for an outdoor meet & greet at Dickson House. At only six months old, Violet needed plenty of treats to keep her on task, but she already had the warm personality of a true comfort dog.
Inside Dickson House Forensic Interviewer Molly Carson showed one reporter the CAC's colorfully furnished reception and interview rooms with their child size furniture and welcoming wall designs.. .....For more information subscribe to our paper.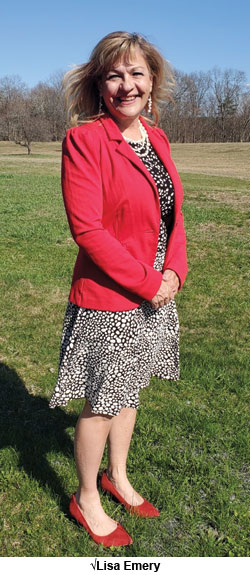 'Hometown Girl'
Runs For Mayor

MILFORD — Third-generation Pike County resident Lisa Emery has announced as a Republican candidate for Milford Borough Mayor. She wants to bring back what she remembers while growing up in Milford: the small-town America where you know your neighbors and are always there to lend a helping hand.
Emery recently retired after 35 years in the mortgage lending industry; her most recent employer was Bank of America. She tried her hand for a short time selling Real Estate in Milford but soon returned to the mortgage industry.
She is married to Michael, a 30-year veteran of the USAF, who retired as a C5 Flight Engineer and is now employed with the Department of Defense and works out of the Picattiny Arsenal site. He is currently deployed to Al Assad Airbase in Iraq.
Emery and both of her children attended Delaware Valley School District. Her grandson currently attends Delaware Valley Elementary School.
Lisa's son and daughter-in-law also served in the United States Air Force for 10 years.
Having experienced what many military families go through, finding out that your husband or son's base is under attack, Emery said she has learned what is means to be strong.
Having lived in many larger cities, she moved back in search of that hometown feel that she missed. "I understand firsthand what small-town values are and what residents, both new and old, want when they move to Milford. There truly are few towns left like Milford," she states......For more information subscribe to our paper.
Larger 'Frack Tank' Proposed
For Sewage Woes Workaround
By Dakota Hendricks

DINGMAN — Sunrise Lake Section 9 representatives once again present plans for replacing their "temporary" tanker truck, this time with a "temporary" frack tank.
The existing 5,000-gallon tanker truck has been used for the last four years, since the septic system in Section 9 failed. The tanker was an emergency measure while studies were conducted and planning modules drafted for fixing the septic system.
Now four years later, Section 9 is asking to replace the tanker with a slab and a steel "frack tank" truck at the request of M & S Septic, their waste disposal company.
Chris Morgan of M&S Septic said that servicing Section 9 has become increasingly more difficult. Morgan said it has become practically a "twice a day" issue that they have to pump. To better serve the community, Morgan proposed a stone "pad" and a 21,000-gallon steel tank typically used to haul fracking waste fluid. Morgan is unsure if the number of individuals has increased putting increased strain on the system, but at the suggestion of Sewage Enforcement Officer Chris Wood, the current and future tank would have a float and dialer set at 75 percent capacity to call M & S when the tank needs to be pumped.
The Supervisors said they are concerned the current setup has significant groundwater infiltration as the system has overflowed after heavy rain. Chairman Thomas Mincer said he is concerned about whether or not this frack tank meets DEP standards for sewer holding tanks and whether or not this will be as "temporary" as the previous tanker.........For more information subscribe to our paper.