Confusing Pike Place Names Part Of Our History
MILFORD — Pike County and Shohola Township official historian, George J. Fluhr said in an interview last week that insights about a community's history come from founders, famous people, events, and place names. Fluhr devoted a section of his out-of-print book "Pike County Notebook" on the names of villages and municipalities, which can often be confusing.
Fluhr explained that Pennsylvania localities such as Bushkill, Dingmans Ferry, Lords Valley and Greeley, often called villages, are named on maps, might even have a post office, but have no downtown and are not legally constituted municipalities, as villages are in New York state. According to Fluhr, Pennsylvania "villages" have no boundaries. When pioneers and settlers built homes, that area often became a village as the family grew.
Many "villages" in Pike were named after a family, such as Conashaugh (between Milford and Dingmans Ferry), derived from Conrad A. Shaw, an early settler in pre American Revolutionary days. Conashaugh is no longer a village. All that remains of the name is a road off Route 2001 in Dingman Township and a private community development on Route 739 incorporated as Conashaugh Lakes.
Some places were named for a landscape feature, such as Blue Eddy, a canal lock along the Lackawaxen River, named because the river appeared blue at the lock location. Baobab Village, also on the D&H Canal in Lackawaxen Township, was named after baobab, a monkey-bread tree. When the D&H Canal closed operation, the villages and communities along its path also disappeared. Fluhr said that he enjoys the work as historian because of tangential stories emerging from research of place names that shed light on the personal lives and overall history of an area.
Milford Borough streets and alleys were originally laid out after the American Revolution in the late 1700s by Philadelphia circuit judge John Biddis, a developer, in a then innovative street-grid used in Philadelphia. The community became a village in 1796 and incorporated as a borough in 1856.
Biddis named alleys for locally prevalent fruit trees and berries bushes, and streets after his children. Broad and High streets were named for streets in Philadelphia. Harford Street was named after the Harford family and Harford House, the oldest building in the borough. According to Milford Borough Secretary Liz Samuelson, the borough encountered a little controversy about the naming of a private road that served households in Raspberry Ridge, off Bennett Avenue in the borough.
Two residents wanted a whimsical, punning moniker. Residents objected, but the Borough Council had already adopted the name, county officials approved it, and the street sign still reads, "Crimea A River Lane... for complete story, get this week's issue.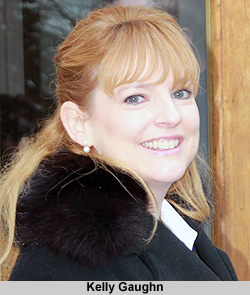 Gaughan To Challenge Tonkin For Pike DA
PAUPACK — Attorney Kelly Gaughan, a Republican, threw her hat in the ring in the Pike County District Attorney (DA) race. Gaughan made her candidacy announcement at a dinner held at Ehrhardt's Restaurant in Paupack last Friday. She is challenging incumbent DA Ray Tonkin, also a Republican.
Gaughan, a vice president of the Levy, Stieh and Gaughan law firm in Milford Township, stated her platform and credentials at the event and in her press release announcing her candidacy. Gaughan noted that her courtroom advocacy and previous work as deputy sheriff, demonstrate her strength, toughness, and determination to render justice. Her concern and commitment to the community is demonstrated by her service and activities on the boards or as member of many organizations.
Gaughan said, "My promise to the people of Pike County is that I am going to be tough on crime and will be a strong voice as a trusted prosecutor.
"I bring 15 years of tested courtroom experience to the office and will continue to maintain a strong courtroom presence as your Pike County District Attorney." Gaughan suggested the she would set a new standard, raising the bar for prosecutions, especially for child-abuse cases,yet be sensitive to needs of families. Her credo is "Committed to Core American Values."
Gaughan said, "My top priorities are to establish a child advocacy center in Pike County for children who were victims of abuse, implement a Veterans Court which will deliver justice fairly and provide treatment to members of our armed forces. It's time for a change."
County Solicitor Tom Farley spoke on Gaughan's behalf. He said that Gaughan would be so tough that she would be willing prosecute even difficult cases. He said that she would be willing to take risks and let the jury decide the outcome. He said, "She is already respected by attorneys in Pike and her peers... for complete story, get this week's issue.