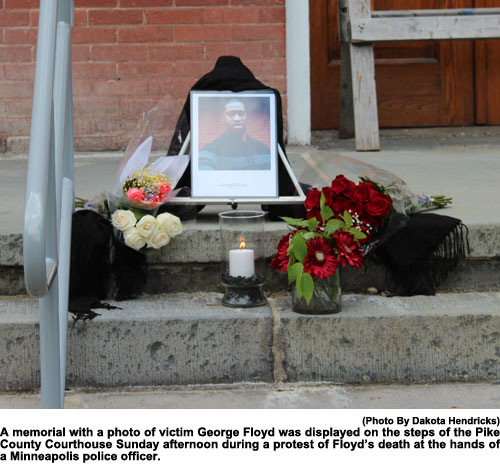 Police Let Crowd Use Their Mic
By Dakota Hendricks
MILFORD — Allowing protesters to speak through their mobile PA system and releasing a statement decrying police brutality, Milford Borough police joined approximately 250 people at a vigil for George Floyd at the Pike County Courthouse Sunday.
Delaware Valley Action organized the vigil in response to Floyd's death in police custody on May 25th 2020. Since then several videos of the event have appeared online sparking outrage and several days of protest over police brutality. Floyd was arrested and subsequently choked by at least one officer in Minneapolis, Minnesota.
Attendees wore masks and stood apart at the Pike County Courthouse and the nearby sidewalk to adhere to social distancing as much as possible. Apparently uncomfortable with the crowd, some attendees gathered in front of the Tom Quick. Many brought signs bearing slogans like "I Can't Breathe," "Black Lives Matter," "All Lives Matter," "No Justice No Peace." Others wrote "George Floyd" on nametags or facemasks. The event was streamed via Zoom and Facebook.
Borough Police officers were present at the event and allowed the attendees to use their vehicle PA system to address the crowd. Ed Gragert addressed the crowd in front of a memorial laid out on the courthouse steps, saying, "We are here today because every single human being should feel safe on the street, in their homes… We are here because George Floyd had a knee to his throat for over eight minutes...while he was pleading, "I can't breathe."... We are here today to be the voices of those who can no longer speak."......For more infomation subscribe to our paper.

Milford Relaxing Restrictions
As Pike Enters Yellow Phase


By Dakota Hendricks

MILFORD — The Milford Borough Council held a Special Meeting via zoom to discuss reopening procedures now that Pike County has moved into the yellow COVID reopening phase.
The Borough tackled the proposal for the Columns Farmers Market and the counter proposal from the Columns Museum. The Borough had several concerns with the original proposal submitted by David Wallace including traffic control, enforcement, vendor spacing, queue placement etc.
The counterproposal submitted by Columns director Lori Strelecki has one entrance and exit to the vendor area with far fewer issues with foot traffic, a larger overall space and a limited parking area. Neither plan would involve contactless payment, and both require about three to five volunteers to staff. The Borough felt more comfortable with the Columns proposal as it makes things easier to follow CDC guidelines. Wallace objected to provisions against being considered as outdoor dining. The Borough said there would be no outdoor dining at the event for now. The Council objected to the limited parking in the rear. Instead there will be no parking at the event, only a pickup point. After reopening the Market on May 31st, procedures will be reviewed two weeks after.
The State will be allowing outdoor dining as of June 5th, and the Council is looking at ways to relax regulations to give businesses as much opportunity for success as possible. The restrictions allow for no more than 12 people per 1,000 square feet......For more infomation subscribe to our paper.
Resumed Meeting Focuses
On Cummins Hill Repair
By Jeremy Van Duyne

WESTFALL — Supervisors in Westfall Township held their first supervisors meeting since last month's hacking incident.
Social distancing and public gathering orders put into place by the COVID-19 pandemic have forced the township to change how they conduct business. They have been forced to rely on virtual meetings in order to conduct their township meetings. With a growing list of issues related to the township that need to be attended to, the supervisors have had to continue running operations in the face of the pandemic.
Last month their meeting was forced to end early after their video call was hacked, with disgusting messages being spammed across the screen. A police investigation looking into who was behind the hack is ongoing. Despite some minor technical issues, the latest meeting that was held this past Monday went much smoother.
A majority of the meeting was spent going over plans, options and bids related to the Cummins Hill-Bluestone Boulevard road project. Deterioration has been a major problem for both roads. Pieces of the roads have been breaking off in chunks into the riverbank that runs alongside it. Surveys conducted indicate that it is in fact a problem with the road itself and not simply a mere geological issue that is causing the rapid deterioration.
Bluestone Boulevard is a major connecting road in the township. It helps connect Cummins Hill Road and Delaware Drive to each other, giving people both an easier travel route and a way to leave the township. If the road were to collapse completely, certain residents in Westfall could possibly be left without a way to travel by vehicle.......For more infomation subscribe to our paper.
Delaware Does Prep Work For Reopening Akenac Park
By Wayne Witkowski

DINGMANS FERRY — Delaware Township Board of Supervisors, at its monthly meeting carried on Zoom videoconferencing, discussed some changes for reopening the township's recreation usage of Akenac Park. It comes in the aftermath of the state's reclassifying the COVID-19 alert system in Pike County from red to yellow.
After considerable discussion of the Pennsylvania Park & Recreation Society COVID-19 reopening guide, the board agreed to the Delaware Township-Dingmans Ferry Historical Society resuming work on the building it shares in Akenac Park. The building will not be open to the public for the time being, however.
The board also approved work on a cabin in the park to start an Akenac Theater. "It's a black box theater approach that's still very much in the works," said township Administrator Krista Predmore.
Also approved were motions to rent four port-a-johns – two at Akenac Park and two at the ball fields off Wilson Hill Road – and to re-advertise for lifeguards and other seasonal personnel. Appointments will be made at the next meeting.
Supervisors discussed the need to hire someone for the summer season, aside from the lifeguards, to enforce social distancing and other safety guidelines at the park.
"I had just gotten the reopening guidelines yesterday and it's 28 pages so I need more time to go through it before the next meeting," said board Chairman John Henderson. "We need to take two weeks (to the next meeting) to come up with solutions."
Henderson said that having four port-a-johns would be more cost-effective for disinfecting than to have to treat much larger bathrooms.
"We have the new guidelines for this. There was one set of guidelines on May 12 and then new guidelines on May 23 that are substantially different," said Predmore. "We're trying to be compliant to keep people safe."
Predmore said afterward that conditions that will lead eventually moving into the color green coding are "very difficult. They change constantly and we've had no timeline provided about when we will go green."
Henderson said it is not decided whether the next meeting will be a Zoom videoconference, like the latest two meetings, or a return to the customary in-person style at the municipal hall with social distancing guidelines enforced.
Predmore said the township wants to resume in-person meetings "at some point" under strict health guidelines of hand sanitizers supplied and social distancing.......For more infomation subscribe to our paper.