Police Headquarters Moving To Westfall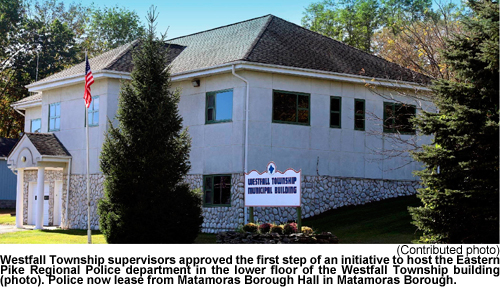 By Ken Baumel

WESTFALL — Eastern Pike Regional Police (EPRP) are planning to move to the Westfall Township building as soon as the lease expires at their current Matamoras Borough Hall headquarters, according to Westfall Township supervisors.
Westfall supervisors discussed the relocation, anticipated to take place later this year, at last week's regular township meeting held at the township building on Delaware Drive.
Westfall Supervisor Bob Melvin asked and got support from the other supervisors that the board would not renew the Borough Hall lease agreement.
Since the Borough Council and Westfall board must agree for the lease to be renewed, if one party does not agree, the renewal cannot take place, according to Westfall Solicitor Robert Bernathy.
Supervisors directed Bernathy to draft a letter informing the Borough Council of Westfall's decision. EPRP Chief Chad Stewart indicated at the meeting that his department wants to move its headquarters as soon as possible.
EPRP chiefs had previously indicated to Westfall and Matamoras municipal officials that the department had outgrown Borough Hall and wanted modifications to the building. EPRP chiefs and the council members have discussed those concerns, but the council has not agreed on options satisfactory to council members or the two EPRP chiefs........For more information pick up a copy at a local vendor or subscribe.