Milford Repeals Verge Restriction,
But PennDOT Has Final Say
MILFORD — Rock on? Not exactly.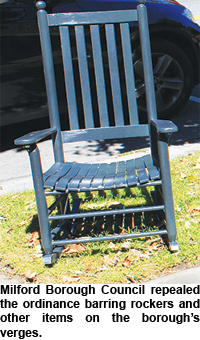 Milford Borough Council officially repealed the ordinance passed in September barring rockers and other items on the borough's verges – the portion of land between sidewalks and streets. The issue came to a head last year when the former council banned placement of rocking chairs on the verges, issuing citations to at least one business that failed to comply with the ruling. It was such a hot issue that it resulted in a November election sweep by a write-in contingent specifically created to battle the ruling.
But, despite the repeal of the controversial ordinance, the verges are not necessarily free space for placement of any items. While the borough will not cite businesses for placing relatively innocuous items there, the Broad and Harford Street verges are considered part of state roadways and are under the jurisdiction of the Pennsylvania Department of Transportation.
And the borough won't allow merchandise and obstructions on the verge, either, according to Council President Patrick Beck. "It doesn't mean it's a free-for-all," he said at the Monday, Feb. 1, council meeting.
Council Member Robert Ciervo said rockers are still not technically allowed under PennDOT rules.
The question was raised whether the planters located along Broad Street are to be banned, but Borough Solicitor R. Anthony Waldron said the borough had consulted PennDOT on the matter and received approval.
"The ball's in PennDOT's hands now," commented Mayor Robert "Bo" Fean.
Fean called council's attention to one outstanding citation – for Hotel Fauchere – and said a hearing date has already been set. But Council Member David Wineberg quickly moved to rescind any outstanding citations on the matter, a motion that was immediately and unanimously approved... for a complete story, get this week's paper.
Port Man Charged With Homicide In Overdose Death
PORT JERVIS — Last week, city police charged 58-year-old Kevin Pelton of Port Jervis with Manslaughter 2nd Degree, Criminally Negligent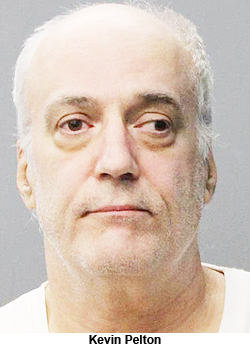 Homicide and drug charges for a drug overdose fatality that occurred on Nov. 3 at Pelton's home, according to City Police Chief William Worden.
Although police arrested Pelton on Nov. 3 on drug charges, the manslaughter investigation required in-depth interviews with witnesses and evaluating Orange County Medical Examiner's toxicology and autopsy reports. Worden reported that police and Emergency Medical Technicians (EMTs) arrived at Pelton's residence at 6 Mount William St. on Nov. 3 in response to a call from a woman at the residence about an unconscious man needing medical assistance.
Since no one informed police and EMTs about an overdose, they attempted to revive 51-year-old Joseph Vara of Nanuet, New York with CPR. When Pelton did not respond, they transported him to Bon Secours Community Hospital, where he was pronounced dead. After a preliminary investigation, city police charged Pelton with Criminal Sale of Controlled Substance 3rd Degree, Criminal Possession of a Controlled Substance 3rd Degree (Class B felonies), and Criminal Injection of a Narcotic Drug (Class E felony).
Further police investigation determined that Pelton allegedly injected Vara and another man with heroin. Police reported that the manslaughter and homicide charges applied because Pelton apparently failed to seek medical attention for Vara after he fell into unconsciousness and after he had difficulty breathing following the narcotic injection.
Worden said, "Neither the police officers nor medical personnel who attempted to aid Mr. Vara were ever informed that Vara had just been injected with heroin, notwithstanding Pelton's presence in the home."
Worden noted that in response to increasing heroin overdoses, city police officers had been carrying Naloxone whenever they are called for assistance. Naloxone is a medication that can immediately reverse overdose effects involving opiates such as heroin. Worden noted that had police been informed that narcotics use was a factor in the incident, standard police response would have been to administer naloxone. Such administration might have revived Vara... for a complete story, get this week's paper.
Milford Heroin Dealer Sentenced To Prison
By Chris Jones
MILFORD — A Dingmans Ferry woman was sentenced to 18 months to 4 years in state prison Thursday for possession with intent to deliver 1,250 bags of heroin that were found in her desk at a Milford Borough realty office. Dorothea Gunderman, 49, was arrested on the morning of Aug. 1, 2015, at her Harford Street office with 29 baggies of heroin in her purse. Previously, Milford Borough Police had found 25 bricks of heroin stashed in some plastic bags in her desk.
An office manager told Milford Police Chief Jack DaSilva that he had received an anonymous tip that Gunderman was selling drugs out of the office. DaSilva came to the office and in his presence the manager opened a desk drawer, removed an American Eagle bag, and took out some plastic bags, whereupon 25 bricks of drugs fell out on the floor. DaSilva later field-tested the drugs, which proved positive for heroin.
"The heroin just fell out on the floor," DaSilva said of the arrest. "So long as it didn't fall into the hands of the kids in Pike County," Borough Mayor Robert "Bo" Fean said later. Gunderman pleaded guilty to two felony counts of possession with intent to deliver, one for the drugs found in her desk and another for the drugs found on her person. Sentencing Judge Greg Chelak said the sentences would run concurrently.
Gunderman's attorney, Asst. Public Defender Jason Ohliger, agreed that the prison term was appropriate, but he argued that the proposed fine of $10,000 would amount to a "crushing financial burden" once his client was released from prison. Asst. District Attorney Bruce DiSarro said the fine was appropriate because the case involved a substantial amount of heroin with a street value of from $13,000 to $26,000.
Ohliger said Gunderman had no assets because the real estate slump had drastically reduced her income for several years during which her life had been falling apart, and that rather than being a typical "cottage industry" type dealer, Gunderman was financing her own $100/day drug habit with the sales of her office stash.
Chelak nevertheless imposed the $10,000 fine, $5,000 for each count. Gunderman, who was out on bail, was placed in custody after the sentencing hearing, then taken to the Pike County Jail to await transportation to state prison.