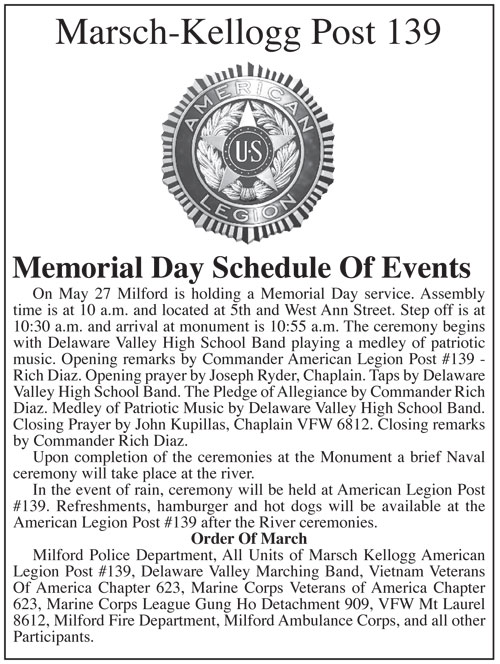 Lackawaxen Pays Off Mortgage On Their Building
By Dakota Hendricks

LACKAWAXEN — Township Supervisor Chairman Mike Mancino said that Lackawaxen has paid off the mortgage on the Township Municipal Building. Mancino said after paying the $200,713.27 the Township is officially debt free.
The VFW received a $150,000 LSA grant to rehabilitate their building. Supervisors approved contracting with township engineer Kiley Associates to help the VFW prepare bid specifications for the construction project. The Board also hired Jim Martin to write a grant for the Lackawaxen Township Fire Commission at a cost of no more than $5,000.
A member of the audience requested the Supervisors look into enacting ordinances pertaining to property maintenance. Solicitor Thomas Farley said many residents of Lackawaxen Township have expressed they do not want this type of regulation in their township. Farley said residents interested could form a committee and attempt to gain support for the initiative.
The Township released stipends of $6,000 to Forest Volunteer Fire Department, $3,500 for Central Volunteer Fire Department and $500 to the Lackawaxen EMS. The Supervisors authorized sending a letter to the Greater Pike Foundation asking for support on behalf of Central Volunteer Fire Department. Central is looking to purchase new AED's for their building and their equipment.
The Supervisors tabled awarding bids for work on Westcolang Road pending review by the township engineer. The Board commended Michael Donovan, Eric White and Peter Luzier of the EMS team for the recent save of a heart attack victim with CPR. Mancino commended Supervisor John Beisel for his work on installing a septic system for the Park Pavilion.
The Township will be purchasing a new 2019 Chevy 250 pickup for $48,855 and a utility bed for $8,750 through COSTARS.
There will be a special meeting at 6 p.m. June 6th at the Lackawaxen Municipal building to hold a conditional use hearing for Three Hammers Winery.....For more information pick up a copy at a local vendor or subscribe

.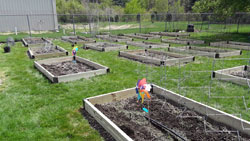 Community
Garden
MILFORD — The pictured pile of rubble is a phoenix reborn! The Milford Community Garden located at the Milford Township Municipal Building has been rebuilt. This was due to a generous grant from the Milford Enhancement Committee, the Milford Garden Club and other donors.
Established in 2012, the original thirty-three beds were pine kits which were generously donated by Home Depot. It is estimated that over the past seven years, over 3,000 pounds of produce has been delivered to the Ecumenical Food Pantry for distribution to families and seniors. "There is nothing like fresh vegetables on your table to make you smile", noted Kathy Donoghue. "It's always been a guiding principle that those who have been blessed need to pay it forward."
Members of the Milford Garden Club and supporters of the Ecumenical Food Pantry spent the morning dismantling and rebuilding. After hours of work under cloudy skies, the sun appeared. We all thought this was an "omen"!
We invite you to visit the garden located at 560 Route 6 and 209 just outside of Milford. If you are interested in helping with gardening or harvesting, call Kathy at 201-233-5365. There is nothing like playing in the dirt!
Thank you to Kathy and Jim Donoghue, Nancy and Ed Duvinski, Diane and Fred Guendel, Connie and Rick Nichols, Linda and Ralph Pinto, Pete Rushton, Sue Smith, Jim Snodgrass, Liz Steen.