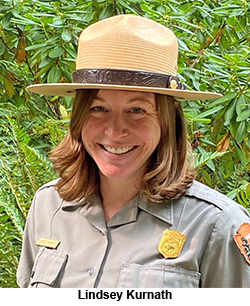 New Up-Del Superintendent Named
BEACH LAKE, Pa. — The National Park has named Lindsey Kurnath as the next superintendent of Upper Delaware Scenic and Recreational River.
"I am thrilled to join the park team at Upper Delaware Scenic and Recreational River," said Kurnath. "I look forward to strengthening and growing the park's relationship with the Upper Delaware Council along with neighbors and members of the community, so that we can work collaboratively and creatively to protect the unique natural, cultural, scenic and recreational resources of the Upper Delaware River. The park team is exceptional, and I am excited to learn from the talented and dedicated employees as we begin our work together."
Kurnath comes to Upper Delaware from Fire Island National Seashore, where she has served as deputy superintendent since 2020. She came to that job from Mount Rainier National Park in Washington state, where she served as chief of Administration and Business Management.
Kurnath holds both a Master of Environmental Management and a Master of Public Policy from Duke University in Durham, North Carolina. She also holds a B.S. in biology from Boston College.
DV Boys Basketball Season Opens Saturday
By Wayne Witkowski
WESTFALL — Seniors Jake Brower and Ron McManus return to the starting backcourt, and Ty Irving is back at forward for Delaware Valley High School's basketball team as it prepares for Saturday's season opener at home against Greater Nanticoke High School at 6:45 p.m.
Add to that two 6-foot-6 post players in junior Chris UGlay and sophomore Peter Stanislaovsky and the Warriors have a foundation to build toward regaining the Lackawanna League Division One championship after finishing in a tie for first place two seasons ago and winning it outright the previous season.
"We're definitely getting boards (rebounds) and hopefully extra shots," said McManus.
UGlay, who has excelled for the school's high-powered boys volleyball team, missed last basketball season with an injury. So did sophomore guard Logan Olsommer, who was out with a broken wrist. He played at quarterback with Brower at wide receiver on Delaware Valley's football team, which wrapped up its season with an opening-round state playoff loss that ended the fall sports season for the school. By the start of last week, they were on the basketball court starting a new winter season.
The preseason is shorter this year – about two weeks – as the PIAA moved up the start date to Dec. 2.
"We need to have sharper cuts and screens, and we have less time to work on that," said Delaware Valley coach Kris Holtzer whose back-door plays are a big part of his half-court sets. "It's the little details we have to work on."
Two other players coming off outstanding football seasons are pushing to be part of the rotation: junior guards Jackson Corrie and Anthony D'Antuono. D'Antuono will miss part of the preseason with a lingering football injury. Both stood out in the defensive backfield.
Vehicle-Deer Collision Considered No-Fault
HARRISBURG – Pennsylvania Acting Insurance Commissioner Michael Humphreys, Pennsylvania Department of Transportation (PennDOT) Secretary Yassmin Gramian, and State Police Commissioner Colonel Robert Evanchick today reminded drivers of the higher risk for deer-related crashes in the fall and that insurance companies cannot add a surcharge to auto insurance premiums for such crashes.
"Late fall and early winter is when drivers are most likely to have a deer-related crash, and dawn and dusk are peak times for deer activity," said Humphreys. "Auto collisions involving deer or other wildlife are considered a not-at-fault accident under Pennsylvania law, meaning insurers cannot raise your premiums or add a surcharge to your premium following a deer-related crash, but this exclusion does not apply if your car does not come in contact with the animal. Any damage to your vehicle from a deer-related accident will fall under a policy's comprehensive coverage."
State Farm estimates there were over 1.9 million animal collision insurance claims in the U.S. between July 1, 2021, and June 30, 2022.
Pennsylvanians, according to State Farm, have a 1-in-57 chance of being involved in an animal-related crash, the sixth highest in the nation. PennDOT reported more than 5,700 deer-related crashes in 2021, up from almost 5,600 in 2020. The 2021 crashes resulted in 1,255 injuries and 13 fatalities.
"Drivers can help reduce the possibility of a deer-related crash by slowing down and using caution, particularly in areas where deer crossing signs are posted," said Gramian. "It's also important to educate young or inexperienced drivers on increased deer movement. Most importantly, your best defense in a crash is your seat belt. Always buckle up, every trip, every time."...............................For more information subscribe to our paper.