Glitterati Find Places At Bar Louis And Beyond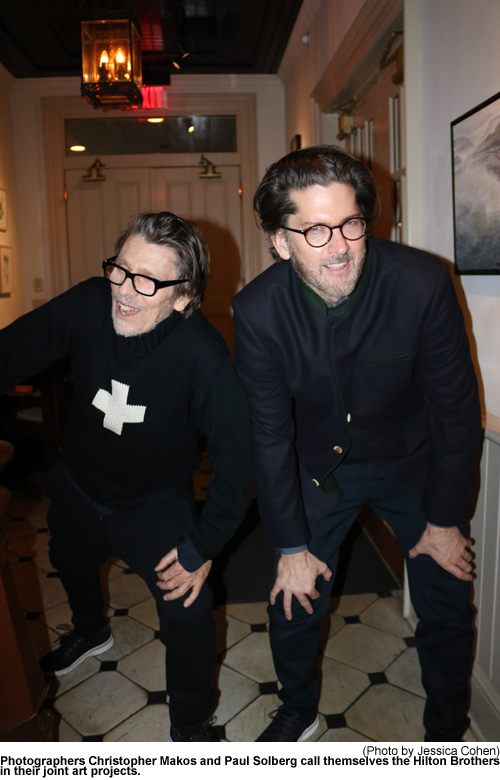 By Jessica Cohen
MILFORD — Christopher Makos photographed Andy Warhol, Mick Jagger, Elizabeth Taylor, John Lennon, Salvador Dali and other celebrities, some kissing, in the '70's and '80's. He took the photos in often casual encounters at the Factory, the work and play space of Warhol, a close friend, Makos said. With 10 of those photos newly hung on the walls of Bar Louis, in Milford, Makos and Paul Solberg, known as the Hilton Brothers in their art partnership, signed their respective books at a reception that filled the bar on Sunday.
Solo, Solberg has work in galleries and museums around the world as well as such publications as the Wall Street Journal and Conde Nast Traveler. The duo's photos of horses spliced with flowers that had been hanging in Bar Louis previously were moved to Hotel Fauchere guest rooms, said Fauchere owner Sean Strub. Makos has known Strub since the '70's, he says.Makos and Solberg recently acquired studio space in Milford, and they enthused about the town, though rooted in New York.
"New York is a bouillabaisse," said Makos. "Now I'll see what bouillabaisse my work here draws."
For 40 years, Makos has lived in the same apartment in the West Village, where he began socializing with artists, musicians, writers, and actors, including Tony Curtis, who gave him a Nikon camera as a birthday present that began his photography career, Makos says. He left the Los Angeles area after high school, frustrated with the difficulty of "connecting" with people in a place with such a spread out populace.
"Milford has a town square feeling about it," he said, adding that he likes the people he meets around town.
One person he met in town, who also showed up at the reception, was Karen Haycox. She encountered the Hilton Brothers looking for a studio space while she was looking for a house, she said. She bought a house in Shohola. .....For more information pick up a copy at a local vendor or subscribe.