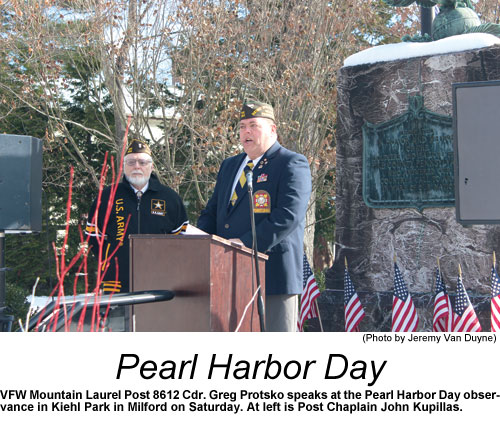 Supervisors Approve Subdivision For Dingman Town Center
By Dakota Hendricks
DINGMAN — The Dingman Township Supervisors approved a DEPG subdivision for the Dingman Center project.
The approval is the next step in "Phase One" of the Dingman Town Center project. At a previous meeting, DEPG CEO Jim DePetris presented his vision for the Town Center, which would include medical facilities, a convenience store, senior townhouses, restaurant, gas station and health club. The development is expected to take several phases. Phase One includes a convenience store, while Phase Two includes the senior town housing, restaurant and health club.
The project is located near the Wells Fargo Bank at the intersection of Log Tavern Road and Route 739.
Park Pavilion Project Complete
The Dingman Park Pavilion project was completed as of Wednesday November 27th. The Park is currently closed to the public for the winter and will reopen next year.
The Board approved the updated fee schedule and a zoning amendment that includes a series of miscellaneous improvements including signage, noise, parking etc. The full text will be available on the Dingman Township website.
Dingman Township Volunteer Fire Department said they responded to 98 EMS calls and 30 fire calls in November and 1,506 calls year to date. Chief O'Brien said the department has achieved 50 percent nationally certified membership. The EMS grant request by the Fire Department has been approved.
The Township Parks and Recreation Committee submitted several ideas to the Board and requested the approval of the Car Show and Scarecrow in the Park event. The Board is considering a request by the Committee to allow a pet adoption during the Car Show.
A public meeting will be held during the December 17th Supervisors meeting about the Sawkill Creek Bridge Project. PennDOT is planning major rehabilitation of the bridge, which carries Route 206-209 over the Sawkill near the Dingman Township-Milford border.
Residents are encouraged to attend to ask questions and express concerns.
"A Tradition Of Carols"
MILFORD —Once again, the Tri State Chorale will present A Tradition of Carols on Thursday December 19 at St. Patrick's Church in Milford. Directed by Matt Rupcich, this FREE concert will feature a variety of
Holiday Carols and YOU!!
You are invited to join all your friends in the Milford community for a traditional Christmas concert and carol sing-along. 50 Tri-State Chorale Singers plus the DVHS Chamber Choir, Shohola Elementary School Chamber Choir will be accompanied by organ and a brass quintet at 7 p.m. Audience participation required. Please join us after the singing for hot chocolate and cookies at St. Patrick's Church Hall.
We would like to extend a big thank you to our sponsors, Milford Presents and the Greater Pike Community Foundation. As a not-for-profit organization we depend on community support to continue to keep our concerts free.
For concert information and updates, please "Like" our Facebook page: https: //www.facebook.com/tristatesummerchorale. For more information please email us directly at: tristatechorale@gmail.com.