Local Judge Reports On 'State Of The District'
By Wayne Witkowski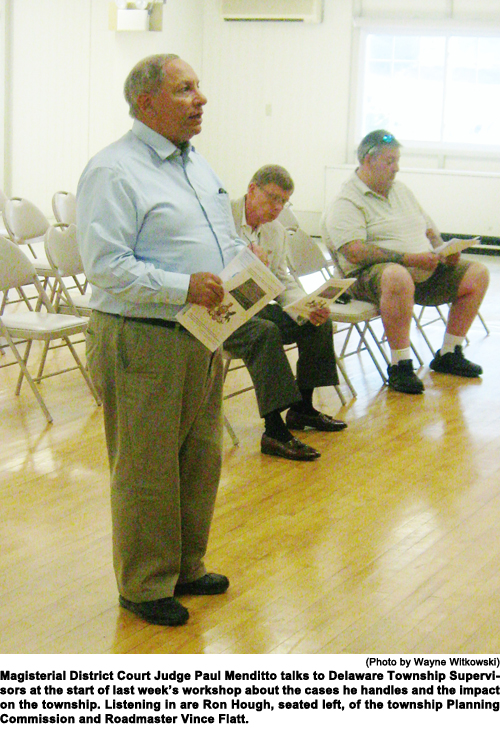 DINGMANS FERRY — Paul Menditto, magisterial district court judge, drove a short distance from his offices on Silver Lake Road last Wednesday to share with the Board of Supervisors at the start of their workshop his State of the District report.
The four-page pamphlet includes a pie graph breaking down total cases into categories and a chart showing how fees from collections are disbursed in his district 60-3- 04, which includes Delaware, Lehman and Porter townships.
"The state of the district is good right now," Menditto said and later said with a smile, "But there is less money coming to your township."
Although state and county disbursements went up, Delaware Township's fees went down from $6,923.71 in 2016 to $3,164.50 last year.
Traffic (violations) seems to be the biggest thing, although we don't have an interstate (highway) here," Menditto said.
Total cases went up last year from the previous year to 1,617 from 1,449, with traffic making up the largest part of that pie chart with 674 cases.
Menditto said he is most proud of the reduction of truancy at the East Stroudsburg Area School District High School North campus, which is under his jurisdiction. Truancy in the state of Pennsylvania is considered a crime, Menditto said. "Many families there are transplants from New York and New Jersey and don't know that," he said.
His pamphlet reads, "By working with the school district and having pre-adjudication meetings with parents, students and school officials, truancy citations have dropped from 71 in 2014 when Judge Menditto first took office to 35 in 2017."
"I"m personally proud of that," Menditto said at the meeting.
Supervisors commended Menditto's pamphlet and presentation for providing ample information on the variety of cases he handles, including Protection From Abuse orders, which can only be issued in cases of immediate danger and not based on old allegations.
He said his is the only district in Pike County protected solely by state police, whereas Eastern Pike Regional and municipal departments cover some municipalities in other districts.....For Complete story see this weeks issue.
Film Intern Receives Black Bear Film Festival Scholarship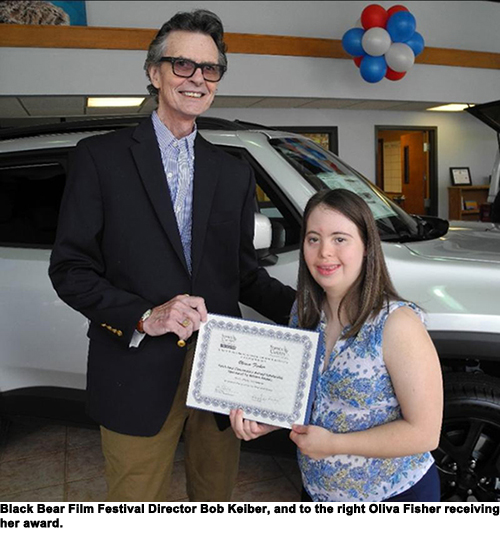 MILFORD, PA — Olivia Fisher, a four point academic average student from Newton, New Jersey, is this year's recipient of the Black Bear Film Festival's Scholarship sponsored by William Rosado of Milford Chrysler. The Black Bear Film Festival established a film scholarship at Sussex County Community College as well as an educational program as part of their Greater Pike Community Foundation grant award.
Olivia Fisher is a filmmaker with a degree in Fine Arts, with emphasis on film and fashion from Sussex County Community College. She interned with the festival last year, while pursuing advanced studies. As an intern, Olivia was involved in all aspects and operations of Black Bear, contributing her time, energy, and diverse range of talents in making a difference for the community.
This year's Black Bear Film Festival will be on October 19, 20, and 21, as it continues to grow in its programs and offerings to the community thanks to the support of The Greater Pike Community Foundation, Richard L. Snyder Fund.
Black Bear Film Festival is proud to announce this year's Film Icon Guest, Jane Alexander, at the 19th Annual Black Bear Film Festival. Jane Alexander is an American author, actress, and former director of the National Endowment for the Arts. She is a Tony Award winner and two-time Emmy Award winner.
For more information about the Black Bear Film Festival Scholarship, becoming an intern, or the 19th Annual Black Bear Film Festival, call 570-409-0909 or visit their website at http://www.blackbearfilm.com.