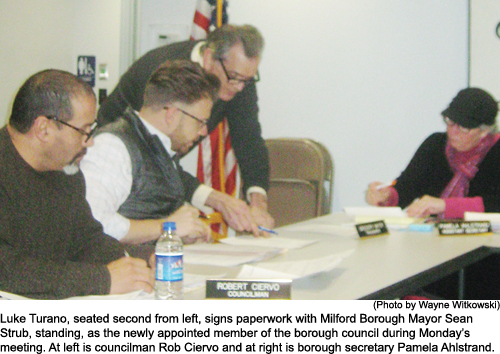 New Borough Councilman Stresses
Economic Development
MILFORD — During Monday night's meeting Luke Turano, who operates an insurance and financial business with offices in Honesdale and Jermyn, was approved for the seat on Milford Borough Council vacated by Patrick Beck last June. Turano, who resides with his wife, Kris, and daughter, Mackenzie, on Seventh Street, in his letter of interest focused on helping the borough's economic development. He serves on the Wayne Economic Development Corp. and Sustainable Energy and Economic Development Support (SEEDS). A Honesdale High School graduate, Turano holds a business administration degree from Marywood College.

Kim Reno, who ran unsuccessfully for a council seat in last year's elections, also submitted a letter of interest, saying she wanted to serve all of the borough needs rather than specify on business. She said there are seated council members who are business owners who can better address that end. Turano received four yes votes from council members Frank Tarquinio, Rob Ciervo, Adriane Wendell and Aaron May, and Reno received two votes from council members Meagan Kameen and Annette Haar.
May had served the last six months of last year on an interim basis for Beck's seat but won a full term over incumbent Winston Clark during last November's General Election.

Also at the meeting, the board approved the lot combination proposed by East Hartford LP for two commercial lots at 107 E. Harford St. where Dunkin Donuts and Milford Smoke Shop are located. The request was approved in reviews by the borough and county planning commissions as well as borough zoning. Attorney Kelly Gaughan, representing the applicant, was told the businesses must change the signage for one combined sign rather than two separate ones. Changes in parking to allow for more spaces may need to be considered... for complete story, get this week's issue.