Board OK's Inspection Work For Road Project
By Wayne Witkowski

DINGMANS FERRY — During their bi-monthly meeting last week, the Delaware Township Board of Supervisors moved forward with a major road project to resurface the entire length of Doolan Road and part of Park Road.
The board unanimously approved engineering firm Boucher & James to conduct the grant inspection work for the $895,560 project at a fee of $27,100. Total inspection work at conclusion could amount to 10 percent of the project costs, according to a letter submitted by township engineer Jon Tresslar, whose company will handle the inspections.
Work consists of grading shoulders, building aggregate shoulders, providing superpave scratch, leveling and wearing courses and line striping for the 1.7-mile length of Doolan Road and for Park Road from Milford Road/State Route 2001 to Silver Lake Road.
The funding will come from a Pennsylvania Department of Transportation's Multimodal Transportation Fund (MTF) grant. The grant is intended to encourage economic development and ensure that a safe and reliable system of transportation is available to the residents of the commonwealth...For more information pick up a copy at a local vendor or subscribe.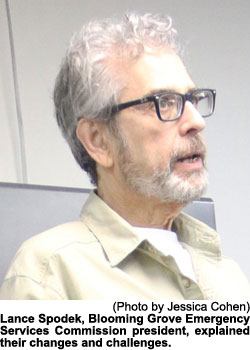 Another ALS Service Eying Pike County
By Jessica Cohen

LORDS VALLEY — Change and recurring conflicts marked an update on emergency services presented by Lance Spodek, Blooming Grove Emergency Services Commission president, speaking at the township supervisors meeting on Monday.
He said that Good Samaritan Ambulance had made a presentation to the commission and would do so in other Pike County towns. Advanced life support (ALS) ambulance services are still lacking after an ambulance company abandoned the county months ago. As Good Samaritan requested, the commission provided statistics on Blooming Grove calls regarding payment by Medicare, private insurance, self-pay and nonpayment, Spodek said.
"They're trying to put together a package," he said, noting that negotiations with Commonwealth Ambulance, who had previously considered providing service, "broke down."
Meanwhile, the board of directors of Hemlock Farms Volunteer Fire and Rescue Company terminated their employment of Maryann Savadel as administrator, Spodek said. She oversaw scheduling and billing and was also an EMT.
"The company's board of directors felt they wanted more control, and they hired a replacement who was more responsive to them," Spodek said. "The ambulance is owned by the fire company, but managed by the administrator.".For more information pick up a copy at a local vendor or subscribe.
Ordinance Lets Fire Dept. Bill For Rescues
By Wayne Witkowski

BUSHKILL — Lehman Township emergency providers will be reimbursed for some rescue costs when they respond to calls.
Township Board of Supervisors approved an ordinance that will enable the Bushkill Volunteer Fire Company to bill insurance providers for those people needing services for rescues such as auto accidents, a practice already exercised in neighboring Monroe County townships. It was an idea proposed at a previous meeting by the fire company for when they perform rescue services and was further discussed at later meetings.
A public hearing for the ordinance and a ratification vote will be held at an upcoming meeting.
Plans continue to move along for a Bushkill Outreach Community Center to be located in one end of the township community park parking lot. Proposals for USDA and Loan Share Account (LSA) grant applications are being handled by township consultant Simone Collins.
The township also has changed its engineering firm from Boucher & James to McGoey, Hauser & Edsall, which has an office in Milford. Mike Lamoreaux is lead engineer.
Supervisors passed Resolution 341 for a new $61,980.01 Pennsylvania Department of Transportation winter maintenance agreement. The agreement in the past called for winter weather treatment of Milford Road/State Route 2001 and part of Bushkill Falls Road up to the traffic light. Both are located within the township. Under the new agreement, the weather treatment covers the entire length of Bushkill Falls Road in the township west of the traffic light to the Porter Township border. A turnaround at the end of that added stretch of road was established for township snowplows when an agreement was reached with the gun club owning the roadside property.......For more information pick up a copy at a local vendor or subscribe.