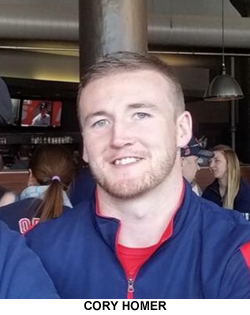 Homer Announces Bid For Re-Election On The DVSB

Cory Homer, a resident of Matamoras for over 20 years, has announced his bid for re-election on the Delaware Valley School Board.
Cory graduated from Delaware Valley High School in 2008 and is currently the Vice-President of the School Board. While attending DV, he was actively involved in a number of different activities including football, Health Occupations Students of America (HOSA), and Relay for Life.
Cory graduated from Lebanon Valley College in 2012 with his Bachelor's degree in Psychology. While at LVC, he was named first-team All-Conference, first-team All-Region, and received All-American Honors in football. He continued his studies at Marywood University, subsequently earning his Master's degree in Clinical Psychology. While in graduate school he worked as a direct patient care specialist at St. Joseph's Center and played semi-professional football.
Cory is currently the Dean of Institutional Effectiveness and Marketing, Enrollment Management, and Distance Learning at Sussex County Community College. In this role he has oversight over assessment and research across all institutional and academic areas of the college, and has spearheaded various strategic planning and economic projection initiatives. He has presented at a number of different higher education conferences, and serves as a Peer-Reviewer for the Middle States Commission on Higher Education. He is additionally pursuing his Ph.D. in Psychology with an Emphasis in the Integration between Technology, Psychology, and Learning.
Cory has been actively involved in community service within Pike County since a young age. He has been a firefighter and rescue diver for the Matamoras and Westfall volunteer fire departments for the past 12 years, and is currently the Dive Master for Westfall Volunteer Fire Department. He has coached/umpired for the Babe Ruth Baseball League, coaches for the Pike Area Youth Athletic Football League, and serves on the Pike County Chamber of Commerce Business Education Committee.
"I am forever grateful for the Delaware Valley School District which has given me so much. In partnership with my fellow Board members, specifically Jack O'Leary and Dawn Bukaj who are also seeking reelection this year, I hope to continue to add insight and work with members of the community to continue upon the rich history and tradition that our schools are known for.
Township Snowplow Needs Turnaround On State Highway
By Wayne Witkowski
BUSHKILL — Lehman Township Board of Supervisors, at last week's meeting, agreed to take a stance on lingering road issues in the township.
With winter weather winding down, the supervisors are looking to finalize an agreement with the Pennsylvania Department of Transportation on treating two miles of Bushkill Falls Road past the traffic light at East Stroudsburg North High School during snowstorms. The main issue is setting up a location where a township truck can easily turn around at the end of that stretch and treat the other side coming back.
A turnaround becomes necessary, said Board of Supervisors Chairman Rob Rohner, because the township will have another truck treating that area beyond the traffic light and needs to be able to turn around easily to treat the other side of the road and get back to continue other work. Rohner said the township wants to take on the road treatment job, although Porter Township also has expressed some interest and both townships will continue the discussion started by state Rep. Rosemary Brown, R-189......For more information pick up a copy at a local vendor or subscribe.

.