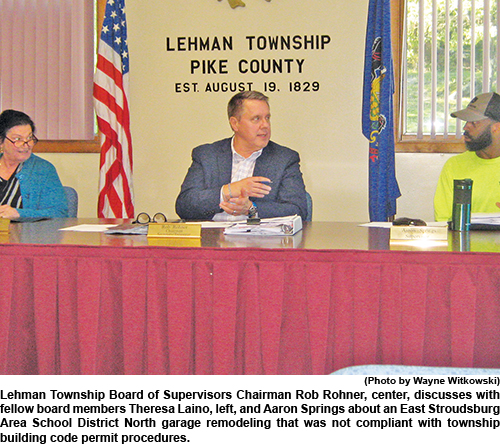 Bus Garage Didn't Get Permit, Board Member Says
By Wayne Witkowski
BUSHKILL — East Stroudsburg Area School District Board of Directors member Wayne Rohner again visited with the Lehman Township Board of Supervisors to discuss his concerns regarding the North campus.
Rohner said he understood that a project remodeling the school bus maintenance garage across from the North campus was "non-compliant" as it did not receive permit approval from the township as required by the township building and zoning codes.
Board of Supervisors Chairman Rob Rohner said he had already looked into that and no permits were approved and issued to the school district.
School board member Rohner said there was no Property & Facilities meeting or discussion on the matter and no motion for the remodeling presented to the school board.
"There was no plan, no vote by the (school) board on this. The township should have issued a building permit for this and did not," said Wayne Rohner.
Since completed, the remodeling prevents the garage door from closing when a bus enters, which Wayne Rohner said raises concern for mechanics going basic maintenance on school buses in the garage during the chilling late fall and winter months. In some cases, buses would not be able to enter the garage. He said it could lead to problems getting buses out for their routes and put an added burden on some of the 20-plus bus drivers that could pressure them into quitting their job.............................................For more information subscribe to our paper.
Shohola Passes Ordinance Regulating Fire Departments
By Jeremy Van Duyne
SHOHOLA — The Shohola Township Board of Supervisors met last Thursday night for their monthly supervisor meeting. Among the few items of the meeting's agenda was the passing of the brand-new township ordinance known as Ordinance 85.
At last month's supervisor meeting, the board opened a public hearing regarding the ordinance, which seeks to provide some regulation for any fire department that receives taxpayer funding from the township.
Providing some new guidelines for these fire companies to follow, the board created the Ordinance as they want some better oversight of fire department matters.
"It would be an ordinance of the board of supervisors requiring appropriate recording information, data and similar information for public review," said Township Solicitor Jason Ohliger at last month's meeting. "It would be providing procedures for township oversight and management of any fire company receiving tax money from Shohola Township."
The new ordinance covers a wide array of subject matters. It sets forth multiple definitions regarding fire personnel, actions of the fire company, proper reporting to the board and expenditures.
The key component of the new ordinance is it now requiring proper reporting of expenditures as well as a proper list of all the qualifications its members hold. The ordinance also provides guidelines on how the fire department is to spend their money. As well as things such as drug testing of its members, guidelines concerning township property and the due dates for reports that are now required by the ordinance.............................................For more information subscribe to our paper.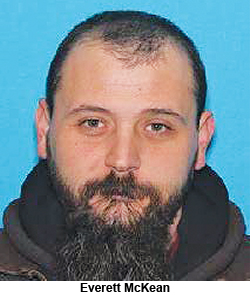 Shohola Sex Abuse Suspect Sought
MILFORD — The Pike County District Attorney's Office is seeking information leading to the arrest of Everett McKean, 42, last known address of 724 Route 434 in Shohola, Pa.
Detectives have obtained an arrest warrant for McKean on felony charges related to the sexual abuse of children. Anyone with information on the current whereabouts of McKean is asked to call the Pike County Communication Center at 570-296-7700 with information. McKean is known to be in the Shohola-Greeley area of Pike County.
It is currently unknown if McKean is operating a specific vehicle.