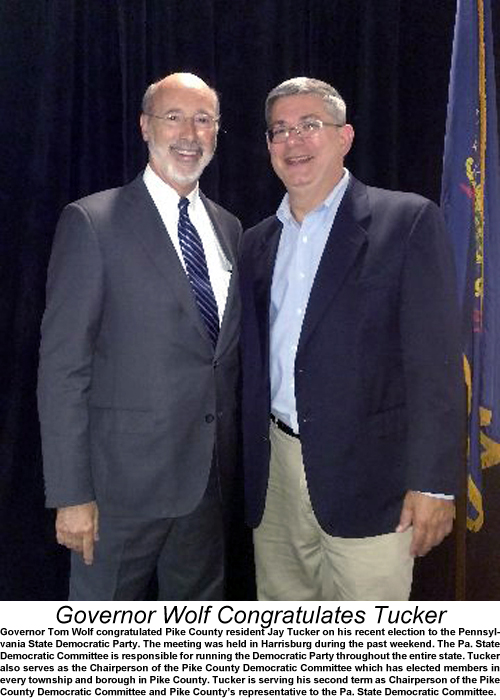 Saw Creek Gives Input On Short-Term Rental Ordinance
By Wayne Witkowski

BUSHKILL — Officers from the Saw Creek Estates Community Association, the largest private community in Lehman Township, met with supervisors at their bi-monthly meeting last week to discuss and suggest revisions to a proposed Short Term Rental Ordinance that is being crafted for approval.
Dave Martin, general manager of the community association, as well as association Board of Directors President Peter Derrenbacher, Vice President Gene Farrell, and Jessica VanDerVliet, director of member services, came as a follow-up to the first public hearing on the preliminary draft held a week earlier.
This is help for you and for us," said Supervisor Dick Vollmer. "We decided we need an ordinance to cover certain things. We're here to help you with more from the township where we have more teeth."
"This (ordinance) puts the landlord on notice," said Board of Supervisors Chairman Rob Rohner.
Ordinance No. 135 specifies the requirement for a short-term rental permit that must be renewed annually and filed and paid to the township. It must include proof of general liability insurance for the home for a minimum of $300,000 coverage with an agreement to exclude the township from any liability. Homeowners insurance was not asked for or required in the past.
Also, an owner who lives far from the home being rented must appoint an agent for the property residing within 30 miles from the short-term rental.
Short-term rentals must comply with the 2015 International Property Maintenance Code and the township zoning ordinance, and all applicable township ordinances and permits must be posted conspicuously at the rental property. Parking is limited to available on-street parking.
"This is not placed out of the air," Vollmer said of the ordinance. "It's in a lot of codes."
There are many specifications in the ordinance, but supervisors and Saw Creek representatives agreed with township Solicitor Donald Karpowich that it is not as stringent as one recently developed in neighboring Middle Smithfield Township in Monroe County that has cited past problems with "party houses." One Baruch College student died in a fraternity party in December of 2013 while staying at a short-term rental in Tunkhannock Township in Monroe County.
A mishap at a Saw Creek property where a deck at a short-term rental collapsed during a gathering at the house last winter, injuring 12 children, spurred the township to introduce legislation specifically to address that type of housing. The deck was installed and not approved for a permit after the residence had housing permits issued.
"No matter if it is one incident or 10, we are concerned with the health, safety and welfare of residents," Rohner said.
"We don't have a problem of short-term rentals. We wanted to make sure you had an opportunity to know this before the ordinance is adopted," said Martin, who said that roughly 5 percent – 108 out of the more than 2,000 homes in the community – are short-term rental properties.
Martin said there have been no complaints regarding about two-thirds of the short-term rentals, and only two properties had more than three complaints. In one of those two property complaints that had 10 instances cited, most were "anecdotal," said Martin, and virtually all were resolved......For more information pick up a copy at a local vendor or subscribe.
Harvest Festival
MILFORD­ — Milford United Methodist Church will be holding its annual Apple Harvest Festival on Saturday, September 22. The festival is open from 10 a.m. to 3 p.m. on the grounds of the church, in the heart of Milford. Address is 206 East Ann Street . This event is rain or shine and held Inside the Fellowship Hall and on the grounds around the church.
The festival will feature independent vendors and community partners, our Homemade Apple Crisp with ice cream, delicious Sausage and Peppers heros, hot dogs, hamburgers, a fantastic bake sale, family-friendly activity/craft table and more! All Welcome!
To find out more about the programs and activities of the Milford United Methodist Church, check out our website https://milfordmethodists.org/ for vendor spaces or other information please call the church office at 570-296-6124.