Fair Weather For Parade Holds True Once Again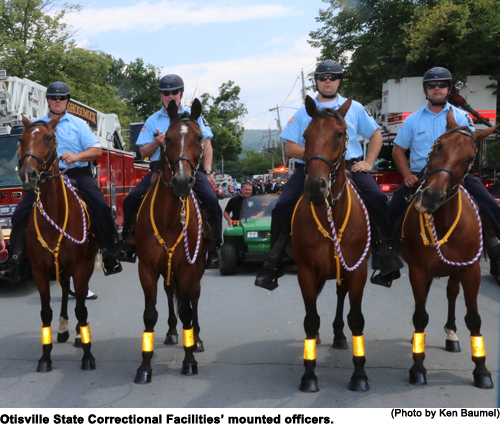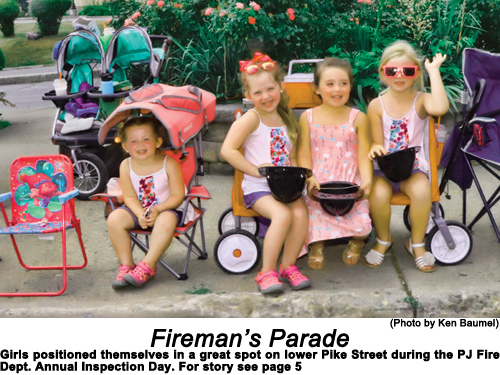 By Ken Baumel
Stanley Siegel's comments at the most recent Common Council meeting about good weather during the 168th Port Jervis Fire Department Inspection Day Parade held true.
Last Saturday, parade marchers, bands, riders, spectators, and vendors enjoyed balmy weather, not too hot. It was perfect even for marchers in heavier outfits, such as the Newburgh Fire Dept. Pipe and Drum and those wearing department uniforms from all the city companies and visiting companies. The march is among the oldest continuously running parades featuring fire companies in the nation, if not the oldest, noted Siegel.
Staging on Sussex Street, marchers, bands, and the spit and polished vehicles wound around Ball Street, Pennsylvania Avenue, Jersey Avenue, Front Street, Pike Street, East Main Street, and Kingston Avenue.
Kids loved the pageantry, evidenced by their rush to gather candy strewn by many parade participants and their flocking to vendors in carts offering goodies, balloons, and colorful knick-knacks.
The department honored Tom Vicchiariello, Russell Scott and Frank "Petey" Fuller, all of Excelsior Engine 5 as grand marshals. The department awarded prizes for best in parade in various categories.
In other matters, Councilperson/Recreation Committee Chairperson Gina Fitzpatrick reported the following:
• Recreation Department's free Summer Program that runs through Aug. 10 is progressing well. The program is held at the Youth Center, Church Street Park, Farnum Park and Riverside Park from 9 a.m. to 3:30 p.m. on weekdays for kids aged 7 and up;
• Activities include cooking, arts and crafts, scavenger hunts, hockey, basketball, rugby, softball, tennis, and many other options;
• Recreation provides a free lunch to kids at all four locations at noon;
• Free evening programs include Co-ed Track at 6 p.m. on Tuesdays and Thursdays at the High School, Girls Basketball at 5 p.m. on Mondays at Church Street Park;
• West End Beach is open from noon to 6 p.m. on Monday, Thursday, and Friday and 11 a.m. to 6 p.m. on weekends. During those times, certified lifeguards are on duty. The beach is closed on Tuesday and Wednesday. The city charges a $5 parking fee per vehicle on weekends for non-residents.
Upcoming special events include the following:
• At 7 p.m. on Wednesday, Mike Pacer and the Orchestra of One is featured. The last free summer concert is at Farnum Park, featuring the Broome Street Band at 7 p.m. on July 23;
• A free Outdoor Movie, "The Star," is scheduled at Riverside Park at 7 p.m. on July 27. Get there early since free hot dogs and popcorn are only available while they last;
• For more information on any programs or events, call Recreation at (845) 858-4045 or email pjrec@frontiernet.net.
The next Recreation Commission meeting is scheduled at 7 p.m. on Wednesday, Aug. 15 at the Youth Center on Pike Street.
The council approved a $5 million Bond Anticipation Note to cover the city's financial outlay for the first year of the two-year Tri-state Road Widening and Neversink Bridge replacement projects. City Clerk Treasurer Robin Waizenegger estimated that the projects would likely be done within 18 months.
According to Waizenegger, the city would need to float another bond note next year. The note is a line of credit designed to help the city's cash-flow situation. Under the terms of the New York state Dept. of Transportation contract for both projects, the city must initially pay federal and state share up front, but is reimbursed when the projects are completed.