Audit Shows City In Good Financial Order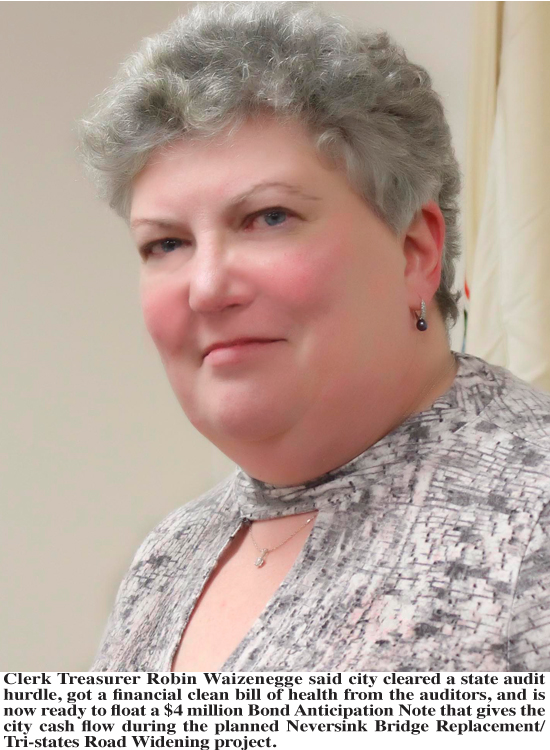 PORT JERVIS — Despite the pressure of state mandates and city finances that forced the Common Council to jack up taxes this year, a state audit conducted in City Hall this month gave the city a clean bill of health.
Mayor Kelly Decker said, "We requested that the state Comptroller's office conduct an Audit and Risk Assessment. They sent us a [report] letter with no comment. Such a letter is very unusual. They commended us."
Councilperson/Finance Committee Chairperson Kristin Trovei said, "The auditors told us that we need no further auditing services [because the books are in order]."
City Clerk Treasurer Robin Waizenegger spoke during Monday night's Common Council meeting and in an interview afterward about the audit, city cash-flow needs, and a bond borrowing.
Waizenegger complimented her staff for thoroughly preparing for the audit and for helping her prepare for what turned out to be a clean audit.
Waizenegger said, "The auditors were here for four days. They told us that they [send] very few such letters. [Regardless] I was glad to see them leave. They checked everything we did for the past year.
"This is the earliest we have ever done an audit since I have been here. Up to this year, we never had adequate staffing or fully trained staff to do an early audit. The council agreed to the additional staffing.
"We needed to do this early audit because we need to borrow for the Neversink Bridge/Tri States Road Widening projects.
"We need to borrow so that we have adequate cash flow during construction. The project is $12 million. We are floating a $4 million Bond Anticipation Note. The projects are going out to bid in April and construction should start in July."
Trovei presented and council approved the annual city Tax Warrant resolution, authorizing the City Clerk Treasurer to collect $6 million in two installments.
If the first installment is unpaid by April 30, the city would assess a 6 percent penalty and 1 percent per month interest.
If the second installment is unpaid by July 1, the city would assess a 6 percent penalty and 1 percent interest per month.
The city does not accept the second installment without the first one paid.
Taxpayers Watch Group
In other matters, the council approved a request by Deerpark resident Linda Van Horn for the use of a room at the Howard Wheat Hose #4 Firehouse by the newly formed Taxpayers Watch Group.Van Horn said that the advocacy group wants to represent taxpayers in the city and in the Port Jervis City School District.
The group plans to hold its organizational meeting to elect officers from 7 to 9 p.m. on Thursday, March 22 at the Howard Wheat Engine Company on Owen Street.
Van Horn said that the group plans to meet once a month.
The group wants to brainstorm ideas to help the city and school district. Ideas might include ways to invest existing revenue, and find additional private and public grant and funding sources.
The group would provide a forum to engage creative thinking about the future of the city and schools. Van Horn said, "We would like as many people as possible to come out to share their ideas. All are welcome.
"Please come out to help us all be able to keep our homes in this area by helping to reduce the tax burdens being placed on us by so many increases in taxes and fees.
"If you have some ideas or thoughts you think might help this organization, send an email to dancingstill@yahoo.com, write to Linda Van Horn, P.O. Box 655, Sparrowbush, NY 12780, or call (845) 856-6486.

Business of the Month – PJ Bowl