City Sells Sidewalk Lots To Hotel Developer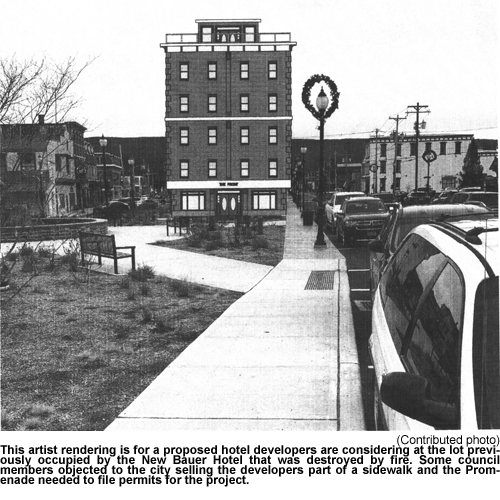 By Ken Baumel
PORT JERVIS — The Common Council approved selling 2,650 square feet a city-owned sidewalk (parts of which are on Jersey Avenue and the Promenade) for $3,386.47 to developers who plan to build a hotel, restaurant, and bar on the land where the New Bauer Hotel once stood.
The New Bauer was razed after a devastating fire damaged the building in 2001.
The council took action at their first meeting of the year, held at City Hall on Monday. Councilpersons Maria Mann and Stan Siegel voted "No" on the sale.
City Clerk-Treasurer Robin Waizenegger said in an interview on Tuesday, "City planning and zoning regulations would prevent the developer from building on the lot without obtaining the city-owned land. They wouldn't be able to get permits unless they owned the sidewalk and section of Promenade."
In the past few days, the developers, Martin McDonough and Cory Puopolo, notified Mayor Kelly Decker about their proposal to buy the sidewalk and a small section of Promenade from the city, according to Decker.
The council discussed the matter in a one-hour executive session, after which the council voted to accept the developers' offer.
Decker said that the city valued the property at slightly more than $26,000. Siegel said in an interview on Monday, "I voted "No" because I think the city should have gotten the full value of the property."
Mann said in an interview after the meeting, "As a business owner on Front Street, I think that the construction period would damage my business and other business owners on Front Street. It would disrupt traffic. I'm also concerned that during construction, it would disrupt parking.
"There's not enough parking on Front Street. That's a big issue now. What are they going to do about parking after the building is done?
"The council should have been provided more information to discuss these issues. I'm not against the project, but I have many concerns. The vote should have been tabled for more discussion."
Siegel said, "We should have gotten the full $26,000."
Decker said in an interview that Siegel had once suggested that the city sell those slivers of city-owned land to John Little, a developer from Sparrowbush. In 2006, after Little bought the former New Bauer lot, he proposed building a hotel and restaurant on the lot. Siegel indicated this week that the situation downtown has changed and he would favor more discussion prior to a vote. During 2006, the city Community Development Agency had tried to secure state grants for economic development to help Little, but was unable to secure enough to keep Little going. : .....For more information pick up a copy at a local vendor or subscribe.
Opening Our Hearts And Moving On, A Lecture With Guided Meditation
PORT JERVIS — Kadampa Meditation Center New York will present "FORGIVENESS: Opening our Hearts and Moving on," a Community Lecture with guided meditation, on Saturday January 26 from 7:00 p.m. – 8:30 p.m. at Foundry 42+, 42 Front Street, Prot Jervis, NY.
Forgiveness is a strong and courageous mind that frees us from unnecessary pain. By dwelling on past harm and blaming others, we continue to harm ourselves. Buddha's teachings illuminate the real source of our problems.
Through this wisdom, we can learn to forgive others, let go of the past, and move in the direction of healthy, loving relationships and a happy life. The lecture will include short guided meditations and talk. Everyone is welcome and no experience is necessary! Course cost is $10. Register in advance at www.kadampanewyork.org or pay at the door. For more information call 845-856-9000.
This meditation lecture will reveal how we can use Buddhist meditation and positive thinking to transform every moment of our daily life.
The lecture will include guided meditations and a talk providing fundamental instruction on how to meditate and, practical solutions to problems in daily life, inducing genuine optimism and increased happiness. Great for Beginners. You do not need to bring any mats or wear any special clothing. We sit in chairs, and there is no physical exercise, yoga, or stretching involved. For more information call (845)856-9000.
https://kadampanewyork.org/meditation-classes/meditation-workshops/forgiveness-meditation-workshop
Kadampa Meditation Center New York is located in Sullivan County at 47 Sweeney Road, Glen Spey, NY 12737, off of Route 97, turn on to Route 31 just north of Hawks' Nest. Kadampa Meditation Center New York meditation classes, day courses, retreats, Buddhist prayers chanted in English and a chance to learn about the Buddhist way of life.....For more information pick up a copy at a local vendor or subscribe.