Send your event listings to
Don't forget to include:
who, what, where and when!
Church Chili Cook-Off
PORT JERVIS — St. Peter's Church in Port Jervis is pleased to announce that their eighth annual Chili Cook-Off will be held on Saturday, March 7, from 11 a.m. to 2 p.m. (snow date March 8, 11:30 a.m. to 2:00 PM) at the church located at 31 West Main Street in Port Jervis. Both chili chefs and tasters are needed for the cook-off, which will commence at 11 a.m., with voting ending at 1 p.m. Awards will be given between 1:30-2 p.m. Registration is limited to the first twenty entries for those cooks who want to enter their chili into the competition. There is no entry fee. Anyone who wants to be a taster – and vote on their favorites – can do so at the church the day of the competition for a donation. Chili will also be available for purchase for eat in or take out. All proceeds benefit the ministry and community outreach of St. Peter's Church.
Last year there were approximately 20 chili entries, including vegetarian options, with awards given to the top entries in different categories. Some of our returning judges for this year include Port Jervis mayor Kelly Decker and Chef on the Run, Bill Harris! Anyone interested in registering to be a chili chef for the event is asked to contact Kurt Brink by email at kurt.brink@hotmail.com. For any other information call St. Peter's at 845-856-1033 or email stpeterspj@gmail.com.
Tricky Tray
PORT JERVIS — Court Madonna #114 will have their Annual Tricky Tray on Sunday, February 16. The Tricky Tray will be held in the Most Sacred Heart Hall of St. Mary's Church, located at 50 Ball Street, Port Jervis, NY 12771.
Doors open at noon. Drawing begins at 2 p.m.
For more information, contact Barbara Drew, Chairman, at 845-856-2624.

Census Officials Hope For Better Response In 2020
PORT JERVIS — The Common Council heard a presentation this week regarding the 2020 United States Census.
Megan Tennermann, who is a demographic analyst with the Orange County Department of Planning, made the presentation at Monday night's Council meeting.
"The goal is to count everyone once, only once and in the right place," Tennermann said.
"The Census data is used for congressional, state and county reinforcement. It is used to determine funding levels, which is even more vital to everyone's day to day activities I suppose."
The presentation went over several important details regarding the Census, including its history, purpose, data analysis and ways for residents to take part in it. She brought up the demographics of those who are the hardest to hear from. These included children below the age of five, Hispanics, those below the poverty line and commuters. Tennermann's biggest point was to drive home how important the Census collection is when it comes to federal funding. She went over all the things that receive federal funding and just how devastating loss of that funding would be.
"Every year over $675 billion is apportioned to states, counties and municipalities based on their population," Tennermann said. "That is everything from highway funding to health funding to school lunch programs to education funding."
"Everything that you can think of that is affected by federal dollars is determined by Census population."
The Census has been a big issue for Port Jervis ever since the 2010 Census. The Common Council has spent the past year reminding residents to take part. They've blamed a poor showing in the previous one for causing more financial hurdles that the city needed to overcome.........For more information pick up a copy at a local vendor or subscribe
.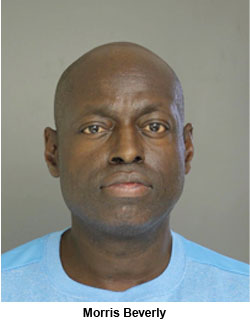 14-28 Years In Sex Abuse Of 13-Year Old Girl
By Chris Jones


MILFORD — Morris Wayne Beverly of Bushkill was sentenced last Thursday to 14 years to 28 in state prison for the sexual assault of a 13-year-old girl in 2016.
Beverly, age 51, and then boyfriend to the victim's mother, was found guilty last November of four counts of statutory sexual assault; four counts of corruption of minors and one count of solicitation of IDSI (Involuntary Deviate Sexual Intercourse).
A Pike County jury of six men and six women convicted him on all counts after deliberating for about one hour after a two-day trial.
In addition to the prison term, President Judge Gregory H. Chelak sentenced Beverly to three years probation supervision.
He will be required to submit a DNA sample prior to his release and register under the Adam Walsh Act, commonly referred to as Megan's Law, for the remainder of his life.
The girl confided in a trusted relative that Beverly was molesting her. The girl later told a forensic interviewer at the Children's Advocacy Center of Northeastern Pennsylvania the details of the sexual abuse.
State police initiated an investigation, and the Pike County District Attorney's Office approved the charges against Beverly just days later.