Port Jervis Celebrated Veterans With A Parade And A Ceremony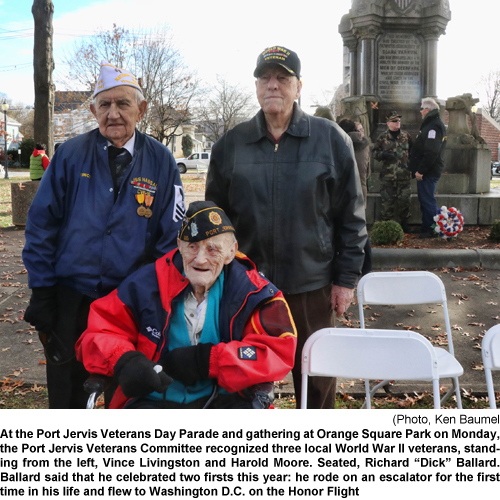 By Ken Baumel

PORT JERVIS — For the first time in recent memory, Port Jervis celebrated Veterans Day on two days, Sunday, Nov 11, and Monday, Nov. 12, rather than just on Nov. 11.
The traditional schedule, set at 11 a.m. on the 11th day of the 11th month, celebrated Armistice Day, the end of World War I. November 11, 2018 marked 100 years since the end of WWI, but not everyone agreed on the scheduling of the Orange Square Memorial Park ceremony on Nov. 11.
The Port Jervis Veterans Committee, headed by Hank Dunn, announced at the most recent Common Council meeting that the committee recommended rolling over the celebration to Monday to avoid potential scheduling conflicts with Sunday-morning churchgoers.
Traditionally, the committee and the Common Council agree to co-sponsor the park celebration and parade. Mayor Kelly Decker, a veteran, and Council Veterans Committee Liaison Stan Siegel agreed that the 11 a.m. on the 11th day of the 11th month schedule was virtually sacrosanct and should not be compromised.
The council approved the Sunday schedule for the city-sponsored Orange Square celebration. The committee hewed to the parade on Monday schedule, with Dunn noting that the day, a federal holiday, was celebrated on Monday.
The outcome was that veterans received honor and recognition on Veterans Day for two days this year instead of one in Port Jervis, noted Siegel.
On Sunday, Decker was keynote speaker. He said, "As you look around this park there are markers for wars that have come and gone. Many of those markers recognize those from our city who were lost so that they will be eternally remembered for their valiant stand for our freedom.
"Unfortunately, when it comes to our World War I War to End All Wars" veterans' recognition here, as well as by our nation, it is dismal at best.
"A total of 117,000 Americans died and 323,000 were injured in World War 1, but worldwide, 8.5 million died and 37 million were injured."
Decker said that a lawsuit has scotched plans to build a WWI Memorial in Washington D.C. But he suggested the following: "I ask that we as a community come together to raise funds and awareness to these soldiers that have been forgotten and at the very least install a plaque here [in the park] in honor of the local residents that paid the ultimate sacrifice for us.
"Many have forgotten, many don't care, many don't like to be inconvenienced; whether it is here or around our nation for the freedoms that these men and women, gave for us. However, I believe those that are here today do care."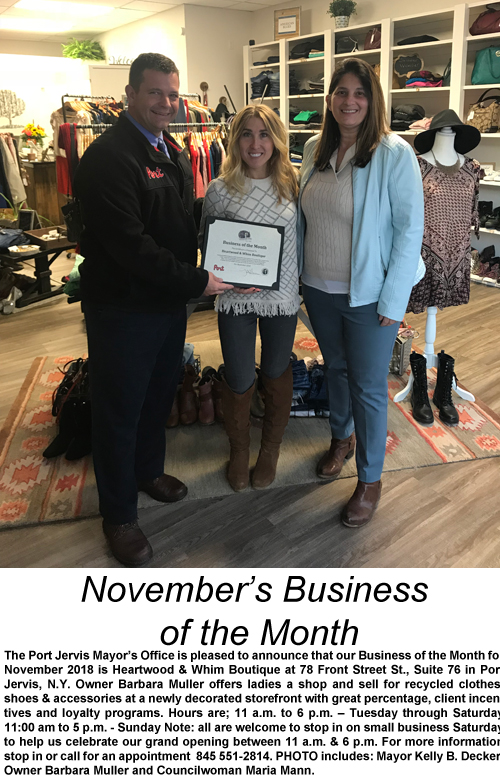 An Enclosure For "Unforgettable"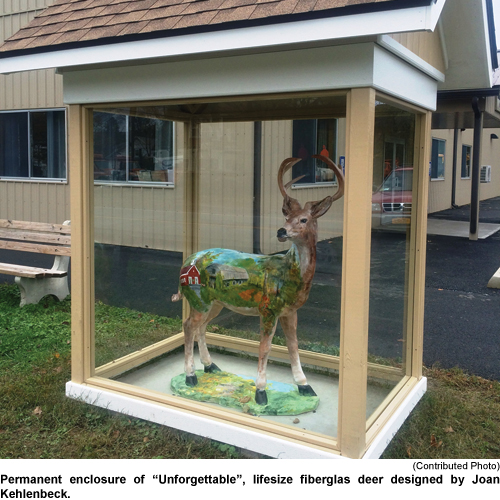 HUGUENOT — Monday, December 3rd, 2018 at 6pm, Deerpark Senior Center, 420 Route 209, Huguenot, NY
This project is made possible, in part, with funds from Orange County Tourism and the County of Orange, funds in memory of Lois Simpson, donation of labor by Kehlenbeck Brothers Construction, LLC and the Town of Deerpark.
"Unforgettable" designed by Joan Kehlenbeck with an Orange Tourism Grant to Susan Miiller.
In 2009, an Orange Arts Grant was given to Susan Miiller of Deerpark to complete a series of Fiberglas deerforms for a unique, public project entitled: Deerest Deerpark I. Exceptional artists from all over Orange County were invited to design Fiberglas Deerforms depicting local scenes ecosystems, spiritual ideas and the visual history of the Town of Deerpark.
The results were a major artistic achievement and a cultural lift for the western part of our county. In 2014, this grant has been given a new cultural lift with additional funding for Deerest Deerpark II.
This new grant funding added a LIFE SIZED Fiberglas deerform decorated by Cuddebackville artist Joan Kehlenbeck. Joan's designs for the lifesize deerform, entitled "Unforgettable", includes local scenes from Deerpark including the D&H Canal, The Neversink Valley Area Museum, The Deerpark Museum and 1863 Huguenot Schoolhouse, local farms, ecosystems, and other historic aspects of the Town of Deerpark. In 2016, this grant was given a new cultural lift with additional funding for Deerest Deerpark III, a permanent enclosure for "Unforgettable". Joan Kehlenbeck is the President of the River Valley Artists Guild. Joan has shown her paintings and pastel drawings regionally and includes important local, historic buildings and scenes in her artwork. Susan Miiller received Orange Arts Grants in 2009, 2014 and 2016 for "Deerest Deerpark I, II, and III": an invitational show of the area's finest artists and their decorated fiberglas deer. Susan received an M.F.A. degree in 1992 and has been teaching faculty at SUNY since 1999.
Dedication of Deerest Deerpark III: A Permanent Enclosure for "Unforgettable" will take place on Monday, December 3, 2018 at 6 p.m. in front of the Deerpark Senior Center, 420 Route 209, Huguenot, NY 12746.
For more information: www.rivervalleyartistsguildofportjervis.com or www.townofdeerpark.org. This event is free and open to the public.