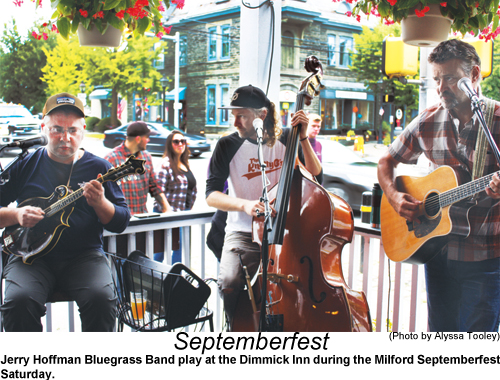 Pike Mobilizes Full Schedule
For 'Recovery Month'
By Chris Jones
ILFORD — Pike County kicked off National Recovery Month last week with a renewed commitment to combat the opioid scourge by spreading the message that "prevention works, treatment is effective and people recover."
"We cannot turn our backs on these individuals. They're all our families and our neighbors," said Pike County Commissioner Matt Osterberg, referring to victims of heroin and opioid addiction.
While not disregarding personal responsibility's role in drug addiction, the commissioners, who previously joined a lawsuit against opioid manufacturers, again stressed the role that pharmaceuticals and doctors played in over-prescribing pain killers to patients who took them at their word that "this stuff is good for you."
"Not everybody who gets a tooth pulled needs 20 [painkillers] Oxycontin," Osterberg said. "A lot of this was created and forced on us by pharmaceuticals. People were being told this stuff was good for you and they took it."
Throughout September, Pike Opioid Task Force members will provide a full schedule of awareness events and activities.
Angela Smith, Pike County Extension educator, gave some frightening statistics: Pennsylvania has the sixth highest incidence of overdose deaths in the U.S., and since 2014 50 of those deaths occurred in Pike County.
Part of the opioid abuse problem stems from prescription drugs falling into the wrong hands, so the Task Force has scheduled three mobile drug take-back opportunities at community events this month. The locations and times are: Senior Expo, 9 a.m. - 1 p.m., Sept. 14, Dingmans Fire Hall; Sept. 22, Harvest Fest, Akenac Park, Delaware Twp.; 9 a.m.-5 p.m., Sept. 29, PAYAL Youth Sports, Airport Park, Matamoras........For more information pick up a copy at a local vendor or subscribe.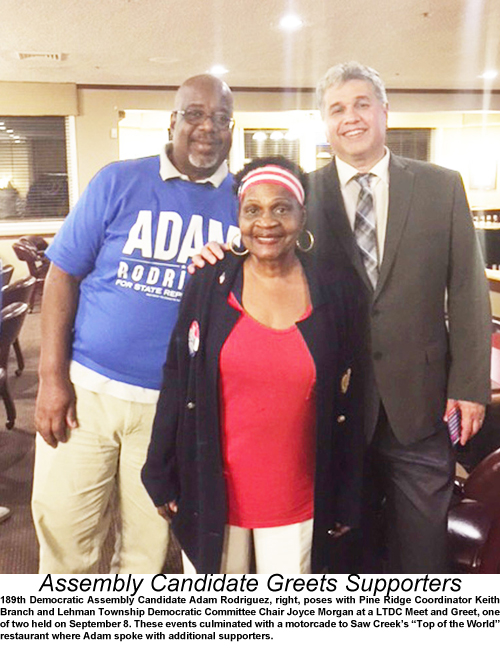 Abuse Outreach Resonates In Blooming Grove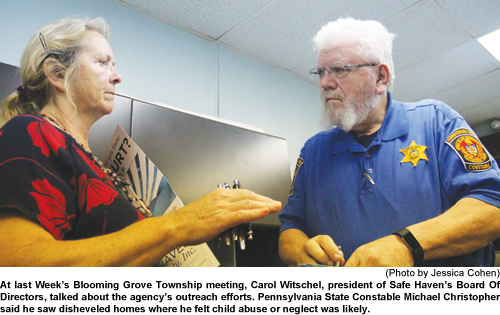 By Jessica Cohen
LORDS VALLEY — Hidden pockets of domestic abuse became the spotlighted topic at the Blooming Grove Township Supervisors meeting on Tuesday when Carol Witschel, president of Safe Haven Board of Directors, gave a presentation on the agency's new efforts.
"Safe Haven representatives are meeting with township supervisors around the county, including places like Porter and Lehman Townships where people might not have set foot on Broad Street in Milford," where the agency's office is, said Witschel. "We're past our growing pains and serving more crime victims because more people know we're there. We're educating people about domestic violence and abuse, providing assistance and referrals. You don't have to live that way."
Internal conflicts among staff had undermined the agency's functioning previously, she said. "Some staff got angry and left, and the board decided they all would have to go. Now we have a highly experienced, organized staff, headed by Christina Byrne."
Under Byrne's leadership, Safe Haven has expanded outreach to seniors, beginning in the last six months, Witschel said.
"We developed a relationship with Pike County Area Agency on Aging, going to senior centers monthly, answering questions, providing information," she said. "Mobile outreach is new too. We've arranged to have safe, confidential space to meet with clients in township halls."
Township Supervisor Chair Nick Mazza offered a Blooming Grove Town Hall room for that purpose. He said he would put a link to Safe Haven on the town's website.....For more information pick up a copy at a local vendor or subscribe.